20 Powerful Protest Photos From Black Friday That Everyone Needs to See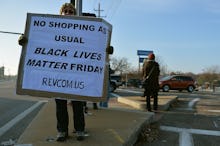 Like the retailers they are targeting, Black Friday protesters got off to an early start this year. The picketing and sit-ins at big-box stores began late Thanksgiving night and have continued into this afternoon as labor rights activists and workers march alongside thousands protesting a Missouri grand jury's decision not to indict the police officer who killed black teen Michael Brown. 
Labor groups estimate that they have reached 1,600 Wal-Mart stores in 49 states with coordinated events calling for wage raises and more full-time positions with regular hours and benefits. 
Montressia Williams, who has worked at Wal-Mart for 14 years, is upset about how Wal-Mart treats its employees.
"When we speak up for fair pay, full-time hours or respect in the workplace, the company often responds by threatening and punishing us," she told Mic on the eve of the protests. "Most Wal-Mart workers make less than just $25,000 a year. How can you raise a family on that? We just want to make enough money so we can provide for our kids.
"How can you work for a company owned by the richest family in the country and struggle just to pay rent?" The Walton family, which founded Wal-Mart and controls a majority of the company's shares, has a net worth of $152 billion and is the richest family in the U.S., according to Forbes.
Over the past few days and culminating Friday, protesters across the States, from New York and Washington to Georgia and California have gathered to demand their fair share. Many more are urging shoppers to resist the temptation and #BlackoutBlackFriday in honor of Michael Brown.
1.
2.
3.
Original Image Credit: Candid in Atlanta, August 2014 (see update below)
4.
5.
6.
7.
8.
9.
10.
11.
12.
13.
14.
15.
16.
17.
18.
19.
20.
Wal-Mart is dismissing the demonstrations, telling Mic that protest organizers are trying to "disrupt the holiday spirit to push their agenda."
"Even with more associates scheduled to work than ever, fewer associates called out absent over the past day than we see on a typical day," said Wal-Mart spokesman Kory Lundberg. "That tells us our associates are excited to be there for our customers at this special time, and they are not joining in made-for-TV demonstrations in any meaningful way."
There have been no reports of any violent or unruly protests outside the stores. On the inside, though, shoppers been just as terrible and dangerous as ever.
Update: Dec. 1, 2014