Frank Ocean Is Finally Back — With an Amazing New Sound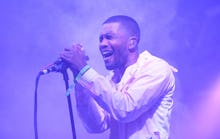 It's been over two years since Frank Ocean's last official release as a solo artist, but the wait is finally over. On Friday, the R&B singer-songwriter and rapper took to his Tumblr to post "memrise," a compact and natural two-minute song that only he could make.
Take a listen below:
About eight months ago, photographer Nabil Elderkin posted this photo of Ocean at work in a recording studio, captioning it, "Frank in the lab ... making sophomore album game." This track appears to be the first fruit of his labor. Though it's just a two-minute clip, "memrise" takes a slightly more stripped-down approach when compared to his critically acclaimed debut, Channel Orange.
Ocean also posted the lyrics to the new song:
I memorized the wayward expressions
Other than his kind-of-weird, kind-of-amazing collaboration with Diplo and the Clash, it's unclear what Ocean's really been up to since Channel Orange. From the sound of this record, it's entirely possible Ocean has just put his head down, working hard to try to one-up the success of his first album, which certainly won't be easy.
This long wait isn't so far-fetched, considering Ocean's propensity to "abort mission" when he's not feeling it. That's part of his relatively slow and fluid inspiration process. Either way, if "memrise" is an accurate sneak peak of what's to come next from Ocean, there's certainly a lot to be excited about.
h/t Vice