Finland Just Did What the U.S. Still Won't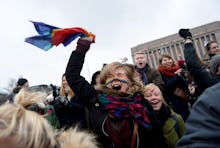 Same-sex couples in Finland can now get married after a close vote in the country's parliament.
The 105-92 vote in favor makes Finland the 12th European country to legalize marriage equality. It's also the last Nordic state to do so, though it did allow for same-sex couples to enter into sanctioned partnerships in 2002.
The new law means gay couples can share a last name and have the same child adoption rights as heterosexual ones.
The reaction:
Prime Minister Alexander Stubb supported the measure in an open letter, saying, "Finland should strive to become a society where discrimination does not exist, human rights are respected and two adults can marry regardless of their sexual orientation."
After the vote, he embraced openly gay MP Jani Toivola.
Why not here? Every country that approves marriage equality offers a reminder how far back the U.S. is falling. While same-sex marriage has seen several victories on the state level since the Supreme Court struck down the Defense of Marriage Act) in 2012, it has yet to gain legal status on a federal level despite the support of President Barack Obama.
That could be changing soon. A ruling from earlier this month that upheld four gay marriage bans means it's very likely the Supreme Court will take up the case. The court's decision could finally set a federal precedent.
Until then, though, supporters of marriage equality will be forced to watch celebrations in countries like Finland while they wait their turn.