Mexico Is On the Brink of Disaster — And It's Time for the U.S. to Pay Attention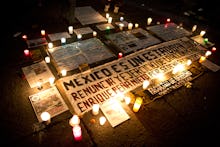 The news: The crisis in Mexico is getting worse.
Eleven mutilated corpses were found Thursday in a mass grave in southwest Mexico. The bodies were uncovered in the same state where 43 missing students were abducted and massacred in September, the Guardian reported.
The discovery came mere hours before embattled President Enrique Peña Nieto vowed to reform Mexico's police structure and root out collusion among law enforcement agencies, political officials and drug gangs.
"Mexico cannot continue like this," Peña Nieto said. "After Iguala, Mexico has to change. Our country has been shaken by cruelty and barbarism."
If Mexico changes, one thing is clear: It will take more than Peña Nieto alone to put the country's democracy back on track.
The background: Peña Nieto has been under pressure after mass protests in the wake of the disappearance of the 43 students in Mexico's Guerrero state. Protesters set fire earlier this month to the wooden door of Peña Nieto's ceremonial palace in Mexico City to demand justice for students and the disappearance of thousands of Mexicans.
Buzzfeed reports that "more than 100,000 people have been murdered in Mexico since 2006, when then-President Felipe Calderón launched a militarized campaign against the country's narcotics traffickers." It's the collusion between Mexican drug cartels and public officials that manifests in tens of thousands of missing people, and public tolerance for the country's ongoing cycle of violence reached a tipping point with the disappearance of those 43 students. 
Why it matters: With each new grisly discovery, Mexico inches closer to the brink of disaster. Observers or analysts suggest that, under Peña Nieto, Mexico is moving further from democracy and closer to a failed state, one which can't even protect its citizens from the daily violence of narcoterrorism. 
"Even before the tragic kidnapping of 43 students from the Ayotzinapa teachers' college in late September, Mexico's President Enrique Peña Nieto was already teetering on the brink," Mexican Law Review editor John Ackerman wrote. 
"His neoliberal reform agenda, systematic repression of protests and iron-fisted control over the media had turned him into the most unpopular president in recent Mexican history. The enormous unrest that has erupted in recent days is, therefore, not only about criminality and violence but also social power and democratic politics."
This isn't just a problem for Mexico, but for the U.S. as well. Mexico's vicious cartels pose more of a threat to U.S. national security than more ominous threats like the Islamic State: While an estimated 9,000 civilians were killed and 17,386 were wounded in Iraq in 2014, members of drug cartels killed more than 16,000 people in Mexico in 2013, with another 60,000 people who were killed between 2006 and 2012, "a rate of more than one killing every half-hour for the last seven years," according to Al Jazeera America.
It's not just violence the U.S. should be worried about. Mexico is a major supplier of heroin to the U.S. market and its largest supplier of methamphetamine and marijuana: According to the Department of Justice, production of these three drugs increased in the past 10 years, and more than 90% of cocaine travels through Mexico and into the U.S.
"Cartel violence extends far beyond Mexico thanks to the drug market's porous, transnational borders," Mic's Coleen Jose wrote, comparing the Islamic State and Mexico's narcoterrorists. "And while IS attacks the American psyche, the cartels attack American citizens and their wallets."
So now what? The responsibility cannot simply rest with Peña Nieto — the U.S. must refocus its energy on the growing crisis south of the border. After all, the U.S. is partially responsible for what happens in Mexico.
"We are collectively funding this war," writes Christy Thornton in Al Jazeera America. "Our tax dollars, in the form of security aid, provide the equipment, weapons and training to state security forces responsible for an ever-lengthening rap sheet of human rights abuses. U.S. drug habits, in the form of an insatiable market for narcotics, marijuana and amphetamines, provide the liquid cash that has proved so corrosive when it has come into contact with every level of the Mexican state.
"This is our war, on our drugs. We have created the Mexico from which we now distance ourselves — but we can't afford to turn our backs any longer."
The crisis in Mexico is getting worse. And it's up to the U.S. to take responsibility for nudging our neighbor to the south in the right direction.
Editors Note: Mar. 2, 2015 
An earlier version of this article failed to cite a passage from Buzzfeed in accordance with Mic editorial standards. The article has been updated to properly attribute the language to Buzzfeed.