Washington's NFL Team Posted an Incredibly Tone Deaf Thanksgiving Tweet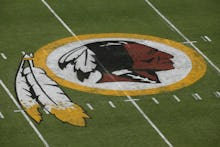 The only thing worse than the Washington Redskins' bottom-dwelling 3-8 performance on the field this year has been everything the team does off the field. Case in point:
There are two ways to look at this. Either the team doesn't understand why this Thanksgiving post is offensive — doubtful, given the attention and controversy the mascot has brought — or it just doesn't care.
The reaction:
This wouldn't be the first time the team has reacted shamelessly after criticism for its name. Owner Dan Snyder has infamously defended the name, telling the Washington Post that it "represents honor, represents respect, represents pride."
Ongoing protests from Native American groups have helped make the team name a national issue, one that has been lampooned in everything from the New Yorker to South Park.
The team simply can't stop with this stuff. And it likely won't until the change the name campaign succeeds for good.