Ray Rice Can Now Play Football Again, But Here's Why He Probably Never Will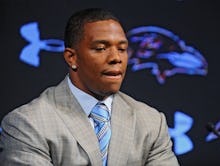 The dark cloud of the Ray Rice domestic abuse scandal has been looming over the heads of the NFL's executives and Commissioner Roger Goodell throughout this entire season — and it doesn't look like it will evaporate any time soon.
NFL Network's Ian Rapoport tweeted Friday that running back Rice had won his appeal against the NFL and would be reinstated.
As ESPN's Adam Schefter points out, Rice's reinstatement means that he "can sign with any team any time."
Ray Rice is PR poison: This is probably the biggest motivating factor for every NFL team. After the fallout from the TMZ video release, Goodell had a news conference in September solely dedicated to the league's mishandling of the issue. And while it's debatable whether Goodell actually said anything of substance, both he and the league had been under fire for weeks.
If this is the type of questioning the NFL commissioner faced, any team should expect that tenfold if they decide to sign Rice. They would face a heap of scrutiny, a lot of outrage and an abundance of protests. It's bad PR for a league that seems to be in a constant PR crisis, and bringing Rice on may prove to be a liability, regardless of his talent as an athlete.
There's a precedent for a de facto Rice exile: In one of the many scandals the NFL faced last year, former Miami Dolphins offensive lineman Richie Incognito hazed teammate Jonathan Martin. An investigative report by attorney Ted Wells highlighted the extent of Incognito's hazing, which included numerous racial epithets and other explicit comments Incognito made to Martin.
Incognito was released by the Dolphins, and while he has had numerous workouts, he still hasn't been signed by another team. As Bleacher Report's Mike Freeman points out, he is still "too toxic to sign."
Incognito's actions were appalling and disgusting, many would say they pale in comparison to Rice's abuse. If Incognito is too toxic for teams, Rice is essentially radioactive.
Rice's talents are on the decline anyway: It may be hard to believe, but Rice is on the back end of his career as a running back. As ESPN points out, production, in regards to total rushing yards per season, drops for NFL running backs at the age of 27, and Rice turns 28 in January.
The successful appeal showcases the NFL's morally ambiguous practices throughout this whole ordeal, but it doesn't change the fact that Rice will always be connected to that disturbing video of him striking his wife in that Atlantic City, New Jersey, elevator. For his actions, he will probably pay the ultimate price for his career: Never again playing in the NFL.