Darren Wilson Will Resign as a Ferguson Cop, Four Months Too Late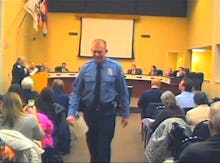 Officer Darren Wilson will be leaving the Ferguson Police Department and looking for a new line of work, his lawyer told CNN. Earlier this week, a Missouri grand jury decided against indicting Wilson for the Aug. 9 killing of unarmed black teen Michael Brown. 
"There's no way in the world he can go back to being a police officer," attorney Neil Bruntrager said 48 hours after the decision, confirming earlier reports. "It's not a question of if, it's a question of when."
Wilson has spent the last 110 days on administrative leave. He will continue to collect a paycheck until the department formally cuts ties, pending discussions with Wilson's representatives. Police Chief Tom Jackson emailed Yahoo News Nov. 14 to say that Wilson would return to duty "immediately" if he wasn't indicted, but backtracked the following day, telling MSNBC his comments had been misinterpreted and that the officer could still lose his job.
"Even if he is not indicted he will be subject to an internal investigation," Jackson said Nov. 15.  Neither the police department nor Wilson, who told ABC News this week he has a "clear conscience" and "did my job right" during the violent encounter that left Brown dead, have commented on the status of that inquiry.
Wilson, who remarried during the grand jury proceedings, is now expecting a child with his new wife. Brown, just a week away from beginning college when he crossed paths with Wilson on that suburban Ferguson street, turned 18 years old in May.
His father's family released this photo Thursday night, from their Thanksgiving Day gathering: