More Americans Turned Out for Black Friday Than for the Midterm Elections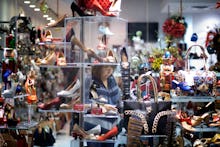 One-hundred forty million.
That's how many Americans the National Retail Federation predicts go shopping this weekend, either in person or online, lured away by the glory of Black Friday deals. Any way you slice it, that's a lot of shoppers. But the picture takes a turn when you consider another number: 
Seventy-seven million. 
That's how many people turned out to vote in the midterm elections this year. So when considering what's more important, voting or Black Friday shopping, most Americans, unfortunately, have already made their choice clear.
The background: Midterm elections always see fewer voters than presidential ones. But this year was especially abysmal — it was the lowest turnout since 1940, as Mediaite points out. The population of the United States back then was less than 150 million.
Even 2012's vote, which saw about 126 million people turn out, would have lagged behind this year's shopping turnout. Despite the stereotypes, though, the biggest shopping weekend of the year hasn't seen as many store-cramming rushes and shopping injuries.
That's because more and more shoppers are just spending their money online, according to the New York Times. Maybe if the U.S. let its citizens vote by phone, things wouldn't be so bleak?
Another option: That's not to say everyone sacrificed their political activism at the altar of capitalism. Perhaps the most important Black Friday activity took place at protests around the country.
Some turned out for #BlackoutBlackFriday, vowing not to shop as protest over Michael Brown's death at the hands of police. Others were rallying against Wal-Mart wages, for which protesters turned out at about 1,600 stores across the country.
It's evidence that not everyone is overcome with the need to hunt down discount electronics this weekend. Doing your part for the economy is all well and good, but more people doing their part for democracy would be a welcome change.