The UN Just Issued a Scathing Critique of America's Justice System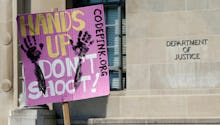 As protests continue across the country in response to the grand jury decision in Ferguson last week, the UN's torture watchdog has a clear message for the United States: America's criminal justice system is in desperate need of repair. 
"We recommend that all instances of police brutality and excessive use of force by law enforcement officers are investigated promptly, effectively and impartially by an independent mechanism," said panel member Alessio Bruni in a statement. Bruni noted in particular "reported current police violence in Chicago especially against African-Americans and Latino young people." According to the report, 20 investigations had been opened since 2009 into systematic police abuses and that more than 330 police officers had been prosecuted for brutality.
It's a clear message: In the eyes of the UN — the international body that, though often ineffective and inconsistent, sets the standard for human dignity and decency — American police brutality is cruel and unusual punishment, the equivalent of torture.
And the United States has an epidemic on its hands.
But it's not just police brutality. The condemnation of police brutality against unarmed black individuals may resonate deeply with some Americans who see Michael Brown's death as a symptom of a larger problem with U.S. law enforcement, exemplified by the deaths of Eric Garner before him and Tamir Rice after.
The panel also decried "excruciating pain and prolonged suffering" for prisoners during "botched executions" — for which 2014 was a banner year in the U.S. — as well as frequent rapes of inmates and extensive use of solitary confinement, as well as "numerous reports" of police brutality and excessive use of force against people from minority groups, immigrants and homosexuals and racial profiling.
Why it matters: The UN, of course, can't really affect change. To imagine the St. Louis County Police Department taking marching orders from Secretary-General Ban Ki-moon is to imagine the impossible. But the UN report confirms what many Americans have suspected long before the death of Michael Brown in Ferguson: that our justice system is fundamentally flawed, from the structural treatment of minorities to the respect for human dignity, regardless of race. 
While a majority of seniors and Republicans still think the two groups (whites and minorities) are treated equally, each category showed a significant uptick in the number who see racial bias as a systemic feature of the U.S. justice system.