Darren Wilson Resigns From Ferguson Police Force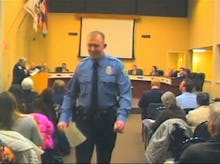 Darren Wilson, the police officer who fatally shot unarmed teenager Michael Brown in August, resigned from the Ferguson Police Department on Saturday.
Wilson, 28, had worked for the city's police department for six years. A St. Louis County grand jury declined to indict Wilson in connection with the shooting death of Brown, prompting racially tinged protests and demonstrations in Ferguson and across the country. 
I, Darren Wilson, hereby resign my commission as a police officer with the City of Ferguson effective immediately.
The Associated Press reports, "Wilson began his career in nearby Jennings before moving to the Ferguson job a few years ago. He had no previous complaints against him and a good career record, according to Police Chief Thomas Jackson, who called Wilson 'an excellent police officer.' "
According to his attorney, Wilson will not receive pension benefits. However, Al Jazeera America notes that supporters of Wilson have managed to raise about $500,000, mostly to cover legal fees, although it's unclear how much of those funds Wilson will have access to.
Editors Note: Mar. 2, 2015 
An earlier version of this article failed to cite a passage from the Associated Press in accordance with Mic editorial standards. The article has been updated to properly attribute the language to the Associated Press.