This Brave Student Has Died After Protecting Two Teenage Girls From Street Harassment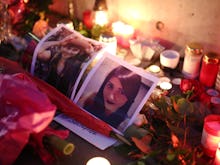 Dozens of Germans mourned Sunday over the death of 23-year-old student Tugce Albayrak, who was killed after defending two teenage girls who were reportedly being harassed by a group of men.
The BBC reports that Albayrak was brutally attacked after intervening in the harassment earlier this month. Albayrak reportedly heard "cries for help from the toilet of a fast food restaurant" in the German town of Offenbach before confronting the group of men who were aggressively pursuing the two girls. One of the men later returned and attacked her in a parking garage. 
It's unclear how Albayrak sustained her injuries: Some reports suggest that the perpetrator attacked her with "a stone or bat," while local media suggests she was punched and struck her head on the pavement. The blows resulted in a fatal brain injury.
Albayrak's parents removed her life support systems on Friday evening, a police spokesperson in Offenbach told local media. It was her 23rd birthday.
Around 150 people attended a vigil in Berlin in her memory on Sunday, and more than 130,000 people have signed an online petition asking the Germany government to award Albayrak Germany's national Order of Merit.
"Like countless citizens, I am shocked and appalled by this terrible act. Tugce has earned gratitude and respect from us all," said German President Joachim Gauck in a letter to the Albayrak family. "She will always remain a role model to us, our entire country mourns with you. Where other people looked the other way, Tugce showed exemplary courage and moral fortitude."
According to German public radio station Deutsche Welle, an 18-year-old Serbian man is in police custody and has reportedly confessed to brutally attacking Albayrak.
h/t BuzzFeed