St. Louis Rams Show Support for Ferguson Protests Before Sunday's Game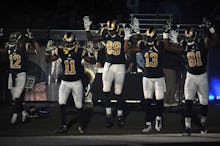 Several St. Louis Rams players showed support of this week's Ferguson protests ahead of Sunday's game against the Oakland Raiders by entering the field with the "hands up, don't shoot" gesture popularized in the wake of Michael Brown's death.
The Rams' receiving corps — Stedman Bailey, Tavon Austin, Jared Cook, Chris Givens, and Kenny Britt — entered the field at St. Louis' Edward Jones Dome before being joined by the rest of the team to start the game.
The CBS commentator noted there was extra security at at the Rams-Raiders game on Sunday, most likely due to the protests in Ferguson, St. Louis and across the country in response to the grand jury's decision in the shooting death of Michael Brown last week.