Ohio State Football Player's Suicide Proves It's Time to Address Sports' Concussion Crisis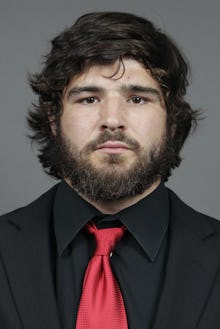 The news: For friends and family of Kosta Karageorge, this weekend ended in tragedy. On Sunday, police in Columbus, Ohio, announced that the 22-year-old Ohio State University senior, missing since Wednesday, was found dead of an apparent self-inflicted gun wound.
But for the football world, Karageorge's death represents not only the loss of a college football player, a teammate and a friend, but also the possible continuation of a disturbing trend: the severity of and fallout from concussion injuries in football.
Karageorge, a defensive tackle for the Buckeyes, only joined the team as a walk-on earlier this year, but his family's description of his behavior right before his disappearance raises all the red flags. Karageorge incurred "at least four or five" concussions from playing sports, one as recently as September. They may have altered his well-being in a significant way.
"He had a pretty bad concussion last fall and he told me about differences in his behavior," his sister Sophia Karageorge told the New York Times. "Just, like, confusion, disorientation, being unable to focus, mood swings — not feeling like himself, basically, not feeling quite right."
And Karageorge himself seems to have noticed his own erratic behavior. Last Wednesday morning, right before he disappeared, he texted his mother Susan this message: "I am sorry if I am an embarrassment but these concussions have my head all fucked up."
Nothing solid yet: We don't know how exactly these concussions affected Karageorge. Any speculation into Karageorge's death is premature, as the investigation is still very much in the initial stages. There may have been underlying mental and psychological issues that Karageorge's family did not know about, or adverse, stressful circumstances that led him to take his own life.
The Buckeyes have also downplayed the notion that Karageorge was having health issues. "While we are not able to discuss or comment about the medical care regarding our student athletes, we are confident in our medical procedures and policies to return athletes to participation following injury or illness," team physician Jim Borchers said in an interview with the Columbus Dispatch on Saturday, before the discovery of Karageorge's body.
It's also important to point out that Karageorge's football career has been brief: He only joined the Buckeyes' defensive line in August, playing one game this season. Previously, he wrestled on the Ohio State team for three seasons, where it's likely he suffered the bulk of his injuries. Still, it's clear that these concussions had lasting effects, and that in his final exchange with his mother, Karageorge himself pointed to his concussions as the source of his distress, is telling.
It's not going away: Concussions in football is a bigger issue now than ever. For the past 16 months, the NFL has been attempting to reach a settlement with 5,000 of its former players, who allege that the league has been sweeping the dangers of concussions under the rug. In October, a deal seemed imminent; the NFL previously agreed to pay up to $765 million in reparations, although that cap may increase, given that around 18,000 former players could be eligible to receive the settlement. Those who can prove that their dementia or Alzheimer's disease stemmed from football-related concussions could receive, on average, around $190,000.
Since 2005, chronic traumatic encephalopathy, a condition linked to football-related head trauma, has been found in 76 deceased NFL players. In the past year, a host of other studies have found connections between head trauma and brain abnormalities, memory impairments and other neurological conditions — sometimes even when a full concussion isn't involved.
In January, even President Barack Obama weighed in on the issue. "I would not let my son play pro football," he said in an interview with the New Yorker. "These guys, they know what they're doing. They know what they're buying into. It is no longer a secret. It's sort of the feeling I have about smokers, you know?"
But do they? That's the crux of the problem. While the president might assume that football players are voluntarily getting themselves into life-threatening situations, the entire point of the NFL settlement is that many former players are feeling deceived by the league about the dangers they faced.
In recent months, the NFL has announced a new concussion management protocol, while the NCAA has implemented a new policy to limit full-contact practice sessions. Both are promising steps, even if they were spurred into action by impending litigation.
Ultimately, these measures might be more helpful than trying to find a Band-Aid solution, such as developing increasingly high-tech helmets. While studies have found that certain helmets do allow for more flexibility and safety, and can even alert the team if a player receives a concussion, helmets can't actually prevent violent clashes from taking place.
Short of fundamentally changing the nature of the game, football's best recourse to address its concussion problem may be post-injury: stepping up its screening process, increasing resources for current and retired players' health care and in all things, prioritizing the players' well-being over anything else. Football players might realize that they're signing up for a dangerous job, but that doesn't mean they shouldn't be protected as best as they can be — and receive the best care possible when they do get hurt.