Why the St. Louis Rams' Powerful Message on Ferguson Is Infuriating Police Officers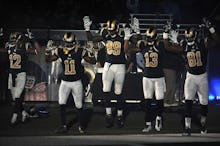 The news: St. Louis police officers are furious after several St. Louis Rams players took to the field Sunday displaying the "hands up, don't shoot" gesture popularized by Ferguson protesters after the shooting of Michael Brown.
Players Stedman Bailey, Tavon Austin, Jared Cook, Chris Givens and Kenny Britt all made the gesture.
The St. Louis Police Officers Association (SLPOA) issued a statement early Monday morning, saying they were "profoundly disappointed" in the Rams for criticizing Ferguson police despite the "mountains of evidence" that allegedly prove Officer Darren Wilson did nothing wrong when he shot and killed Brown, an unarmed teen, in August.
The SLPOA demanded the Rams and the players involved apologize. Missouri state Rep. Jeff Roorda, also the SLPOA business manager, chided the Rams organization as "remarkably hypocritical" as the Rams asked for assurance that their players and fans would be kept safe from the protests in Ferguson, yet at the same time "perpetuate[d] this myth that Michael Brown was executed by a brother police officer" by showing the gesture.
You can read the full letter, scathing rebukes and all, here.
A couple of caveats: As Vox's Ezra Klein noted, much of the "mountains of evidence" supposedly exonerating Wilson of all guilt makes no sense.
Additionally, Roorda doesn't have a sterling record when it comes to police work. He was fired from the Arnold, Missouri, police department in 2001 for falsifying reports, and is a fervent advocate against police body cameras — a proven deterrent against police brutality. Roorda told the Riverfront Times the ultimate use of body cameras is to "pile petty discipline on our officers," and that the money should instead be used to increase police salaries and upgrade their equipment.
SLPOA needs to calm down: There's nothing wrong with holding your hands up — after all, it's been said time and again that if Michael Brown had done so, he'd still be alive. The St. Louis police have one of the highest crime rates in the country to deal with, plus ongoing civil unrest. Maybe they should worry about policing before they start to worry about PR.
Update: The NFL will not taking action against the St. Louis Rams players. "We respect and understand the concerns of all individuals who have expressed views on this tragic situation," Brian McCarthy, an NFL spokesperson, told USA Today. 
h/t KSDK