Jennifer Lawrence Just Became a Certified Pop Star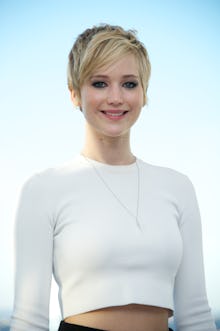 Jennifer Lawrence is many things. She's the world's most entertaining interviewee. She's a proud defender of those attacked by body shamers and Internet hackers. She's an incredible actress. And now she is a full-fledged pop star.
Her song "The Hanging Tree," which she sings as Katniss Everdeen in the latest Hunger Games movie, just debuted on the official U.K. pop charts at No. 14 and No. 12 on Australian pop charts. Estimates also land the song somewhere in the Top 40 on the American pop charts, when those figures get released on Wednesday. Lawrence simply cannot be stopped.
The song was written by Hunger Games author Suzanne Collins and two members of successful folk-pop band the Lumineers. The band received two Grammy nominations last year for their infectious folk anthem "Ho Hey." "The Hanging Tree" has a much more somber, contemplative tone, but it still showcases the band's disarmingly catchy phrasing. 
The song is one of many bright moments on the latest Hunger Games soundtrack, which pop sensation Lorde curated. The soundtrack has received massive critical acclaim. The notoriously finicky Pitchfork gave it an impressive ranking of 7.8 out of 10. "The Hanging Tree" appears beside Lorde's latest single, "Yellow Flicker Beat," and songs by other pop acts like Ariana Grande, Charli XCX and Tove Lo.
Lawrence's pop star ambitions may not be so grand, though.
"I do not like singing in front of other people. It's like my biggest fear. I cried on set that day," she recently told David Letterman. "That was awful." 
Luckily for us, though, Lawrence has plenty of other incredible talents to share with the world. And going down as the world's most universally beloved one-hit wonder is not a bad legacy at all.
h/t Billboard