The 8 Best Films of 2014 That We'll Be Talking About During Oscars Season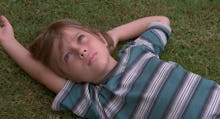 It's been a long year at the box office, a time studded with the usual slew of blockbuster hits and heartfelt romantic dramas. We've seen everyone from Katniss Everdeen to a Lego figurine draw humongous crowds to the movie theaters. Flops have also made their way into the screening rooms, but for every why-did-I-just-watch-that, there are plenty of flicks worth viewing. 
The year has seen some incredible cinematic creations. Plot, character development, framing, lighting and more come together to serve up movies that incite a spectrum of emotions. So while it's still 2014, let's take a look back at some of the best movies of the year. 
The Fault in Our Stars
John Green's book-turned-movie follows the romance that sparks between two teenagers, Hazel and Gus, who meet and fall in love at a cancer support group. The dialogue is witty and the chemistry between the two leads is palpable (and heartbreaking, for those that are familiar with the novel).
Before you write off The Fault In Our Stars, it's important to note that young adult fiction has become huge in the last few years. This movie demonstrates the genre's extreme popularity while still connecting to a mainstream audience. Star-crossed lovers battling a horrible disease might sound like a wrenching premise, but on top of that, there's plenty of humor and warmth, expertly crafted by Green. 
If you loved this movie, in 2015 be on the lookout for: Paper Towns, the next adaptation of a Green book, about a group of friends on the search for the missing girl next door. 
Gone Girl
Another film based off a book, Gone Girl is a dark delight for viewers who love unexpected twists and the suspense of solving mysteries. As Nick Dunne tries to find his missing wife, questions arise as their relationship falls under scrutiny. Soon, he becomes the prime suspect in her disappearance. 
Gone Girl clocks in at over two hours, but feels smooth with its brilliant screenplay and gradual reveal of major plot points. Everyone in the movie is pretty much a terrible person, rooted by a sort of hyperbolic but human darkness magnified on the big screen. Additionally, the movie has spurred conversations about gender roles and misogyny, necessary discussions in today's society.
If you loved this movie, in 2015 be on the lookout for: Jane Got a Gun, a movie starring Natalie Portman as a woman enlisting a former fiance to help protect her family. 
Guardians of the Galaxy
Despite its kick-ass action sequences, easily loved frontman and galactic plot, Guardians of the Galaxy never becomes one of those action blockbusters that ends in a sloppy kiss after the gun-toting knight in shining armor saves the damsel in distress. The supercrew of misfits, composed of an ensemble of talented actors, makes for a top-tier enjoyable movie as they try to save the universe from destruction.
With goofball Chris Pratt as superhero Peter Quill, sci-fi veteran Zoe Saldana in green makeup and Vin Diesel and Bradley Cooper respectively voicing a giant tree and a blaster-shooting raccoon, Guardians could have been a hot mess. In all honesty, it kind of is, but the hot mess that makes for comedic genius while balancing the grandiosity of a very "comic book" plot. Campy and stellar, Guardians of the Galaxy  became pretty much the movie you had to watch this summer, and injected a much-needed dose of humor into the Marvel movie lineage.
If you loved this movie, in 2015 be on the lookout for: The Avengers: Age of Ultron, the long-awaited sequel and continuation of the Marvel universe featuring new superheroes Scarlet Witch and Quicksilver. 
Big Hero 6
Combined, Walt Disney Animation Studios and Pixar are a force to be reckoned with, dazzling with imaginary worlds and heartfelt stories. Big Hero 6 centers on a group of young scientists who use their tech wizardry to save San Fransokyo (a futuristic mashup of San Francisco and Tokyo) from a masked villain.
The settings and scenes in the movie burst with detail and color, making for a jaw-dropping visual experience. But the imagery isn't Big Hero 6's primary strength. The heart between the main character, Hiro, and his sentry robot Baymax makes for a friendship every child and adult wishes they had. And the cohort of gizmo-heroes is one of the most diverse ensembles around, depicting a dynamic cluster of characters that truly make audience members feel the gold-standard Pixar heartstring-tug. 
If you loved this movie, in 2015 be on the lookout for: Inside Out, the next Walt Disney Pictures creation about a girl and the five emotions that live in her mind, with Joy (voiced by Amy Poehler) trying to keep things positive. 
The Normal Heart
The film industry has made great strides in LGBT depiction since the age of Brokeback Mountain. Although aired on HBO, The Normal Heart is a film about the AIDS epidemic emerging in the gay community during the 1980s. It was a scary time for the disenfranchised community, with questions and uncertainty surrounding the disease that killed so many.
The Normal Heart does an amazing job showcasing both the emotions and fears that were running high during the AIDS crisis as it documents gay rights activists and medical leaders fighting to bring awareness and find answers about the epidemic. While the present-day gay community is legislating for marriage equality, The Normal Heart pays respect to and serves as a reminder of past tribulations.
If you loved this movie, in 2015 be on the lookout for: Michael, a film about a gay activist who finds God and renounces his homosexuality, based off the New York Times article "My Ex-Gay Friend."
Boyhood
The sheer scope and creativity put into Boyhood was enough to land it on this list. It was filmed over 12 years, using the same cast to truly capture the transition from boy to man by main character Mason. Birthday parties, graduations, family meals and household occurrences are sure to create nostalgia for viewers.
While growing up is a long and complicated period for all of us, this journey is condensed into just under three hours. The long-term commitment to this project is obvious, as is the huge risk attached to filming for more than a decade — an investment that paid off in an uber-intimate portrayal of adolescent struggle and eventual settling into adulthood. 
If you loved this movie, in 2015 be on the lookout for: The Jungle Book, a whole different growing-up experience, this time being raised by wolves instead of Patricia Arquette. 
Obvious Child
Jenny Slate's Obvious Child is all the best parts of the indie genre put into a hilarious script, while dealing with a pretty heavy topic. Slate plays Donna, a recently dumped comedian who decides to have an abortion after getting knocked up from a one-night stand. This isn't an evaluation of whether or not Donna will get an abortion, but instead whether she's going to tell the pretty stand-up guy who's the father (and who also warms her bread butter for her when they're casually eating lunch).
While most films about struggling in your 20s examine when things go wrong, Obvious Child presents a fresh take on when crap hits the fan. The situation is obviously stressful and daunting for the main character, but she trudges her way through with the help of her friends and family, in a non-cliche and more genuine way that's actually akin to real-life networks of support. This movie is simultaneously easygoing and substantial in narrative, working in harmony to make it a must-watch of 2014. 
If you loved this movie, in 2015 be on the lookout for: While We're Young, a comedy about an uptight older couple making friends with a free-spirited younger couple who gets the elders to loosen up a bit. 
Dear White People
Want to be a better person? Watch Dear White People, a comedy examining the lives of four black students at an Ivy League college and all the shit they have to put up with from the inherently racist institutions they have to navigate. It's a hilarious piece of much-needed satire about the aftermath of an "African-American"-themed party hosted by white students. 
While some films make the world out to be a post-racial society, Dear White People tackles the conversation straight on and makes pointed statements through humorous and intelligent writing. It's a vital watch when race issues are on Americans' minds right now, as the events of Ferguson, Missouri, and endless incidents of violence against black communities continue to plague the post-civil rights era. 
If you loved this movie, in 2015 be on the lookout for: Selma, a movie chronicling the 1965 march from Selma, Alabama, to Montgomery in a fight for suffrage, which eventually led to President Lyndon Johnson signing the Voting Rights Act of 1965. (This technically comes out on Christmas 2014, but it's a perfect complement to Dear White People.)
Hurry up and catch up with these excellent movies from 2014. Before you know it, 2015 will be here with a flurry of other must-watch titles.