There May Be a Big Problem With Mickey Rourke's Ridiculous "Boxing Match"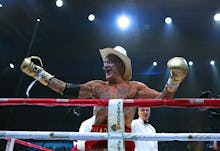 Friday night, 62-year-old actor and presumptive tough guy Mickey Rourke fought and defeated 29-year-old professional boxer Elliot Seymour in a propaganda match in Moscow. It seemed like an astonishing victory for Rourke, who was able to win the match against an opponent 33 years younger by knockout in just two rounds.
Some (but not all) of the coverage was adulatory, praising Rourke's supposedly amazing transformation from a has-been that hadn't boxed in two decades into a dangerous mass of writhing muscles:
But there's a big problem. The Daily Mail reported on Monday that Seymour wasn't quite the accomplished fighter the match's organizers portrayed him to be. A source close to the family allegedly told the paper that six years after winning the Golden Gloves amateur boxing award, Seymour is now a mentally ill "homeless drifter" with a 1-9 professional record. If the source is to be believed (the Daily Mail is a notorious U.K. tabloid with a history of libel suits, among others), the Pasadena native has been living on the streets and parks of California for nearly 18 months:
"He was living up in San Francisco for several months, pretty much on the streets, very estranged from his family and he ended up moving back down here and he's pretty much been living on the streets."
The Daily Mail's source told the paper that Seymour had anger issues, his family had filed a restraining order against him and that he refused to see a doctor.
Since Rourke chose to fight the allegedly homeless Seymour in order to revamp his image, the event seems downright shady. National Coalition for the Homeless director of community organizing Michael Stoops agrees that the fight seemed exploitative.
"I'm sure he doesn't call himself a 'homeless drifter,'" Stoops told Mic. "The majority of homeless folks are just as normal as you and I. However some homeless folk have disabilities, some mental, some physical, some with substance abuse." Though he cautioned against stereotyping Seymour, Stoops said, "There's better choices of boxing partners than picking on a homeless person with mental health issues."
Stoops compared the Rourke fight to the SheFights fetish video series, which featured homeless people fighting scantily-clad female boxers for money.
"Boxing is a rough, dangerous sport, and professionals need to be fighting each other and not picking up some homeless person and putting them in the boxing ring," he said. "Even if they were paid; in SheFights, folks were paid. Whether a homeless person is paid or not, it's still not the right thing to do."
It gets worse: Rourke is a well-known booster of Russian President Vladimir Putin, the match was in Moscow and his opponent was 33 years younger, so it doesn't take a genius to see the match might have been rigged. Sports commentators suspect Rourke may have actually paid Seymour to take a dive.
"Elliot trains here sometimes. He's a professional opponent, meaning you pay him to lose," another source associated with Rourke's Wild Card gym supposedly told the Daily Mail. Gawker's Hamilton Nolan argues that the fight was so obviously staged that the Russian announcers began laughing at it by the second round, while Deadspin's Timothy Burke criticized the actor for continuing to punch Seymour after he went down.
At the very least, it wasn't a fair fight. Yahoo Sports' Kevin Iole noted the Daily Mail provided no proof of match-rigging but admitted, "The bout was beyond awful and neither man had much ability or was in condition for a real fight."
Why you should care: Rourke's intention may have simply been to give a down-on-his-luck boxer a chance to make some money, but that doesn't excuse exploitative behavior.
Poor treatment of the homeless isn't an isolated phenomenon. In 2008, the NCH found that YouTube was hosting at least 5,690 videos with the words "bum fight" in the title. Today, the same search reveals around 16,200 results. In 2013, the NCH also reported that hate crimes against homeless people had jumped nearly 25% from 2012. Violence against the homeless outside the ring is a real and terrible problem, and if the Daily Mail's report is accurate, everyone involved in that match should be ashamed of themselves.