President Obama Is Doing the One Thing That Will Prevent More Fergusons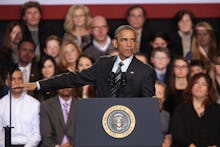 The crisis born of Officer Darren Wilson's non-indictment in Ferguson, Missouri, last week has compelled the White House to push for national police reform.
President Barack Obama called for Monday $75 million to equip 50,000 police officers across the nation with body cameras intended to track their interactions with civilians.
The budget for the body cameras, announced during a day of meetings with civil rights leaders and members of law enforcement, is part of a three-year, $263 million initiative on police reform that would also expand training for law enforcement, according to the Associated Press. Obama plans on working with Congress next year to include the program in the 2015 budget. 
The program: The package would provide a 50% federal match for local police departments to acquire body cameras, Talking Points Memo reports. There are no confirmed numbers on how many police agencies use body cameras, but a 2013 report cited by Talking Points Memo suggests that currently most do not. 
The White House also is working on an executive order to change the review process under which military-grade equipment is given to local police departments and require new standards for their supervision. Talking Points Memo says that a senior administration official declined to comment on whether Obama would support a ban on the transfer of militarized equipment itself to the police.  
The grand jury's decision not to indict Wilson triggered an explosion of protests, riots and a fierce national debate over the relationship between police agencies and the black community. The fervor of the response seems to have already surpassed the outcry last year over George Zimmerman's acquittal after he killed unarmed black teenager Trayvon Martin in 2012.
A necessary step: Body cameras have been brought up as one way to help reform behavior of police agencies, some of whom have proven to be systematic practitioners of racial discrimination. A black person is four times more likely to be arrested for having marijuana than a white person, despite using the drug at similar rates. Young black males are 21 times more likely to be shot dead by police than their white peers. The United States incarcerates its minorities at a greater rate than any other country in the world, including South Africa under apartheid.
Substantial evidence based on case studies show body cameras can work as a tool of accountability and quickly decrease the rate of the use of force in confrontations between police and civilians.
Body cameras won't solve the deeper structural incentives that police officers have for surveilling, harassing and arresting black and brown communities around the country, but they could be a useful tool for curbing the epidemic of police brutality that seems to have hit a breaking point nationally.