32 Powerful Photos You Need to See From the New Ferguson Protests Happening Right Now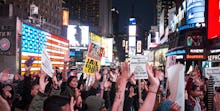 More than three months after Mike Brown's life was cut short by a volley of bullets in Ferguson, Missouri, protests over his killing by Officer Darren Wilson and the greater perception that black lives aren't valued by the police haven't yet died down.
On Monday, "Hands Up Walk Out" protests organized by the Ferguson National Response Network hit more than 30 cities, with high school and college students leaving their classrooms en masse at 12:01 p.m. Central Time, the exact moment Mike Brown was killed.
"From the #ShutItDown actions that have blocked major highways and intersections to the #BlackOutBlackFriday protests, the message is clear: no more business as usual," Ferguson Action wrote on its website.
"We can no longer do what we have always done and cooperate with a system that does not respect black lives. We will only get the change we want if we disrupt the daily order and insist that black lives matter. If that means shutting down the entire country, that's what we'll do."
"A black man is killed every 28 hours — this is not an isolated incident. The first thing that has to happen in order to rebuild trust is that we have to acknowledge that there is a problem," Black Lives Matter cofounder Opal Tometi told Al Jazeera America. "Our community is being hyper-policed, black people are being profiled racially and our community members are being shot down at the hands of law enforcement, security guards and vigilantes."
Major universities across the country staged walkouts, with participants ranging from Ivy League institutions like Harvard and Yale to ones close to Ferguson like Washington University in St. Louis. Outside the U.S. Department of Justice, activists staged a "die-in," laying in front of the DOJ's officers as if they had just been slain. Here are 32 of the most moving photos.
Washington University in St. Louis
Outside the Department of Justice in Washington, D.C. 
New York City
Boston
Seattle
Minneapolis
Wheaton College, Wheaton, Illinois
Yale University, New Haven, Connecticut
Jackson, Mississippi