One Rapper Just Took Down American Courts' Racist Treatment of Black Music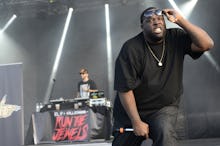 American courts do not understand hip-hop. Over the years, the art form has constantly been ridiculed, slandered and accused of inciting violence. Courts will all too often allow a suspect's hip-hop lyrics as evidence of a criminal streak, but they don't treat any other art form that way. The difference? Hip-hop is stereotypically associated with black culture. There's only one word for this practice, then: racist.
Killer Mike from acclaimed hip-hop duo Run The Jewels (aka Michael Render) is on a mission to change that. On Monday, USA Today ran an op-ed the rapper co-wrote with Erik Nielson, assistant professor of liberal arts at the University of Richmond. It hones in on American court's troubling habits of using rap lyrics as evidence in criminal trials — a trend that has recently become more prevalent. 
Render's piece is one of the most comprehensive breakdowns of the subject in recent memory. A week after he stood onstage in St. Louis and spoke out against the grand jury ruling in Ferguson, Missouri, Killer Mike stepped up to the plate once more to point out the endemic racism we can't afford to ignore any longer.
Render and Nielson focus on lyrics used as evidence in the upcoming Elonis v. U.S. case at the Supreme Court, but hundreds of other examples exist. In this particular case, the defendant, Anthony Elonis, was arrested for "communicating threats" after posting several violent messages to Facebook in rap lyric form. Some of his lyrics targeted his wife and a female law enforcement officer. Elonis has argued that his lyrics are in line with the "conventions of rap music," and that "[a]rt is about pushing limits." The court, however, is otherwise inclined. When Elonis cited Eminem, who has written several songs threatening his own ex-wife, as an artistic influence, the jury did not bite and Elonis was sentenced to 44 months in prison. 
When the case was heard at the Supreme Court on Monday, Chief Justice John Roberts asked the lawyer prosecuting Elonis whether Eminem could be prosecuted in the same way. The lawyer said no. Eminem, of course, is a white man.
This is far from the only case in which rap lyrics have been used to argue the inherently violent nature of a defendant. Just a few weeks ago, Mic covered the trial of rapper Tiny Doo, whose lyrics are currently being used in his trial in California. Courts there claimed that the rapper's gang affiliation, which he refers to in lyrics, helped him sell records. That gang has been linked to nine murders, and even though Doo's prosecutors cannot prove he had a hand in any of them, his lyrics have him facing life in prison.
"No other fictional form — musical, literary or cinematic — is used this way in the courts," write Render and Nielson. They cite research that suggests the double standard "is rooted, at least in part, in stereotypes about the people of color primarily associated with rap music, as well as the misconception that hip-hop and the artists behind it are dangerous."
They're right. Courts generally ignore the fact that rappers use stage names or other literary techniques such as metaphor and hyperbole. Instead they present rap as "literal autobiography," as Render writes, "to secure guilty verdicts." In short, they refuse to acknowledge that rappers might be imaginative in the same way other artists are.
Examples of this assumption abound throughout the legal documents cited, and even in mainstream press. Many cited Michael Brown's love of rap music to attack his character. He was "no angel," wrote the New York Times in their feature/obituary on Brown. "He had taken to rapping in recent months, producing lyrics that were by turns contemplative and vulgar. He got into at least one scuffle with a neighbor."
But the assumption that hip-hop has a corrupting, violence-inducing effect on its listeners and writers overlooks huge portions of hip-hop's true legacy in favor of a stereotyped view of the music. The genre was founded back in the '70s as an alternative to gang violence, as Render notes in his op-ed. Hip-hop music has consistently been a source of salient political critique and intelligent social commentary. Its violent aspects are often illustrated as a way to show people what goes on in some of the country's slums – news that won't get to larger audiences in any other way. As Chuck D famously said, "Hip-hop is the CNN of the ghetto."
Killer Mike's own lyrics also oscillate between violent and insightful. Prosecutors could easily pull a lyric out of his latest single, "Blockbuster Night, Part 1," to try to claim the rapper has a violent nature. But in taking such a thin and fictitious slice of the rapper's work, they would ignore his potent discussions of police brutality songs like "Early": "It be feelin' like the life that I'm livin' a man I don't control / Like every day I'm in a fight for my soul / Could it be that my medicine's the evidence / For pigs to stop and frisk me when they rollin' round on patrol?"
Because as he told NPR, "Rap has given me my voice." We can't let a biased legal system take that away.