Texas Is About to Perform Its Most Controversial Execution Yet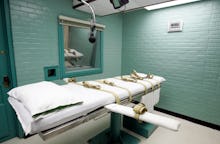 Update: On Wednesday, the 5th Circuit Court of Appeals issued a stay of execution. Buzzfeed reports that state has no imminent plans to contest the decision.
Our original story is below:
Time is running out.
By a 7-0 vote, the Texas Board of Pardons and Parole has denied a recommendation of clemency for mentally ill killer Scott Panetti, who is scheduled to be executed on Wednesday at 7 p.m. EST, barring a last-ditch intervention from the Supreme Court or the 5th Circuit Court of Appeals. Texas Gov. Rick Perry (R) has the power to order a 30-day stay, but cannot commute the 56-year-old's sentence without the board's recommendation.
The Panetti case has drawn the attention of liberal anti-death penalty advocates and conservatives worried that the execution of a mentally ill prisoner, if it goes forward, could galvanize broader opposition to capital punishment in the United States.
The U.S. has executed 1,392 people since the death penalty was reinstated in 1977. In 2014, Texas alone has executed 10 inmates. Panetti's execution would come nearly 28 months after the state put Marvin Wilson to death. Wilson had an IQ of 61, per the Daily Beast. His execution led to nationwide outrage over the sentencing of mentally ill inmates to death. 
Now, with Panetti's legal options dwindling, Texas seems poised to kill a mentally ill convict for the second time in just over two years.
The crime: Panetti was originally diagnosed with schizophrenia in 1978, after being discharged following 10 months in the Navy. He would be hospitalized 15 times between then and 1992, by which time he had gone off of his medications. 
As Time reports, "Panetti had been in and out of a dozen mental hospitals over 14 years, regularly determined to have paranoia, depression, delusions and hallucinations, and [he was] eventually deemed disabled by the Social Security Administration, qualifying him for monthly benefits before he turned 30."
One night in the summer of 1992, Panetti shaved his head, strapped on camouflage fatigues and went to the home of his estranged wife's family. Upon arrival, he murdered his father- and mother-in-law in front of his wife and daughter "with a sawed-off deer hunting rifle."
The first jury in Panetti's subsequent double-homicide trial punted when asked if he was mentally sound, but the next decided to hear the case. (In Texas, the jury is tasked with deciding a defendant's competence.)
This is a Milwaukee Journal Sentinel account of Panetti — who was, somehow, allowed to represent himself at trial — cross-examining his bereaved wife at trial. He referred to his alter-ego, the killer, as "Sarge" or "Sgt. Ranahan Iron Horse."
"Sonja, Joe, Amanda kitchen," he said. "Joe bayonet, not attacking. Sarge not afraid, not threatened. Sarge not angry, not mad. Sarge, boom, boom. Sarge, boom, boom, boom, boom. Sarge, boom, boom."
The jury convicted Panetti after just a couple hours of deliberations. He had called more than 200 witness to the stand, including Jesus Christ, the pope and former President John F. Kennedy. He attended court most days in a purple cowboy suit and 10-gallon hat.
Panetti in the courtroom: It was Panetti's courtroom burlesque that initially drew the attention of the national media. Prosecutors said he was faking it. But every available medical document and outside expert opinion suggests that Panetti's behavior was consistent with an individual suffering an assortment of untreated and dangerous psychotic conditions.
To wit, the defendant — in addition to calling those obviously unavailable witnesses — asked prospective jurors if they had "Indian blood," pointed an imaginary rifle at them and spoke mostly in the third person (again calling himself "Sarge" during some of the most tense testimony). 
Lawyer Kathryn Kase, who has taken over representing Panetti, told Slate that he could not access his medical records during the penalty phase "because he's scrawled all over them with all sorts of bizarre writings."
Mother Jones reports that "two jurors later told one of Panetti's lawyers that his behavior had so frightened them that they voted for death largely to make sure he'd never get out of prison."
Texas did not, at the time of the trial, give juries the option to sentence convicts to life without the possibility of parole. 
Unlikely advocates: Panetti has since gained an unlikely group of supporters. Headlined by a group of conservative judges and politicians, most notably former Texas Congressman Ron Paul and former Virginia Attorney General and gubernatorial candidate Ken Cuccinelli, Panetti now has the support of a vast and bipartisan group of high-profile leaders. 
Even his former wife, who watched as Panetti killed her parents in 22 years ago, asked that he be spared.
In a letter addressed to and subsequently dismissed by the Texas appeals board, the conservative alliance wrote that "Mr. Panetti is one of the most seriously mentally ill prisoners on death row in the United States. Rather than serving as a measured response to murder, the execution of Mr. Panetti would only serve to undermine the public's faith in a fair and moral justice system."
It could also, as his lawyers argue, violate the Eight Amendment, which bans "cruel and unusual punishment." The high court has said that an inmate must not only understand he is going to be executed, he must be able to make sense of why.
That question is at the crux of the questions, and two petitions, now facing the Supreme Court, which sent his 2007 case back to the Texas appeal courts that upheld his initial sentence. Today, the justices have a second opportunity to block this state-sanctioned violation of Panetti's basic human rights. They won't be given a third.
This post has been updated.