Watch Jon Stewart Tear Apart Fox News' Coverage of Ferguson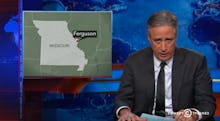 We can always count on Jon Stewart to call "bullshit" when cable news botches the coverage of major events.
Stewart, host of the Daily Show, picked his ripest target in ages Monday night: Fox News and its coverage of the civil unrest in Ferguson, Missouri. The network's attempt to downplay the obvious racial component of the shooting death of Michael Brown, paired with sloppily blaming Al Sharpton and President Barack Obama for the violence, were too much to resist:
The video's best moment: When Sean Hannity remarks, "Ferguson burns because of, in part, a mindset that was created by Al Sharpton, by Eric Holder and the president," Stewart isn't afraid of mocking the Fox television host.
"Be honest, my friend, are those three people responsible or did you just name the only three black guys you could think of?" He sarcastically adds, "Ferguson burns, my friends, in part because of Jay Z, the guy who plays Urkel and, let's say, Hank Aaron."
Stewart's longtime buddy Stephen Colbert may be departing for the Late Show, but as long as shows like Last Week Tonight with John Oliver and the Daily Show continue to take talking heads to task for racism, sexism and moron-ism, our airwaves will be a safer place — keeping everything in check while being intelligently hilarious.