Gwen Stefani Just Released the Sonic Sequel to "Hollaback Girl"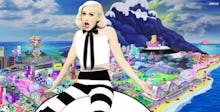 Gwen Stefani needed a hit. The first single off her upcoming solo album was not well-received. So for her second, she went back to what she knows works: She tried to make a new "Hollaback Girl," and she succeeded. 
"Spark the Fire" is basically a sequel to "Hollaback Girl," which was Stefani's first solo hit, also produced by Pharrell Williams, and the two performed it Monday night on The Voice, where they're both judges. "Moves Like Jagger," which received similar treatment from The Voice, went on to huge success and "Spark the Fire" seems primed for the same.
Like most sequels, it's not quite as awesome as the original, but it's undeniably fun. "Spark the Fire" has a chantable chorus with some fun lines a la "Hollaback Girl." And the beat has the same stripped-down, bare-bones feel as "Hollaback Girl," but the hard-hitting stomp has been replaced by a cavalcade of chimes and cowbells. It's a stylish choice, and while it lacks some of the booming urgency of "Hollaback Girl," it has much of the same appeal.
Going with "Spark the Fire" for her second single was a good move for Stefani. Williams is a certified hit-maker, and this song is no exception. If anything will prove once again that Stefani is still the boss, it's this.