9 Photos Show Pope Francis Is Setting a Powerful Example for People of All Religions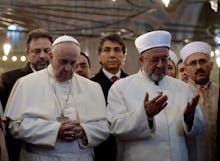 Pope Francis continues to give us reasons to like him. While on a trip to Turkey last weekend, His Holiness prayed with the Grand Mufti of Istanbul, Rahmi Yaran, inside one of Istanbul's most important mosques.
The Huffington Post reports that the ostensible reason for the pope's three-day trip to Turkey was to meet with Patriarch Bartholomew I, the spiritual leader of Orthodox Christians. But he found time to pay his respects at the 17th-century Sultan Ahmet Mosque (also known as the Blue Mosque) with the highest religious official in the nation. Take a look: 
Yaran also presented Pope Francis with a blue tile, similar to those that adorn the mosque, embellished with a tulip design. Yaran said he prayed to God that the pope's visit would "contribute to the world getting along well and living in peace."
With his trip, Pope Francis has again set an example of what it truly means to be a religious leader. Both he and the Grand Mufti found common ground through prayer and their devoutness to religion, signaling to a world often fractured by religious intolerance and suspicion that we might have more in common than we believe.