The 29 Most Iconic Photos of 2014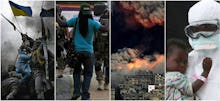 Protests to progress, deadly warfare to beautiful acts of compassion, frivolous selfies to powerful moments of defiance were all captured on camera year.
As 2014 comes to a close, here's a look back at the moments that we'll be remembering for years to come:
Syrians flood a refugee camp during the country's bloody civil war.
Residents of the besieged Palestinian camp of Yarmouk line up to receive food supplies in Damascus, Syria, in this Jan. 31 photo released by the UN Relief and Works Agency for Palestine Refugees in the Near East. The image helped convey the sheer scale of Syria's humanitarian disaster, which has killed more than 200,000 civilians and displaced more than 7 million since 2011.
Legal marijuana comes to Colorado.
Tyler Williams picks out pot at the 3-D Denver Discrete Dispensary on Jan 1., the day that laws legalizing recreational marijuana went into effect. In 2014, legalization passed in Oregon, Alaska and Washington, D.C., and likely just the beginning of legalization. A Pew Research Center poll this year found that 54% of Americans support the legalization of marijuana.
A vivid timelapse of Independence Square in Kiev captures protests.
A haunting timelapse view of Independence Square in Kiev shows the results of violent protests that killed at least 26 people in a single morning. Starting Nov. 21, 2013, protesters took to Independence Square to stand up against government corruption and the violations of human rights in Ukraine.
Anti-government protesters clash with police in Kiev.
This iconic image captures the anti-government protesters in Kiev on Feb. 20, when they clashed with police in Independence Square, the center of the revolution that led to President Viktor Yanukovych being overthrown.
The Sochi Winter Olympics gets off to a rough start.
The failure of one snowflake to open as the fifth Olympic ring during the opening ceremony of the Winter Olympics in Sochi was just one in a long line of Olympic flops. The hashtag #SochiProblems went viral on Twitter, documenting everything from the undrinkable water to the less than satisfactory athlete housing during the contentious Winter Games.
The selfie seen around the world.
Oscar host Ellen DeGeneres snapped this infamous selfie at the event with Jennifer Lawrence, Julia Roberts, Brad Pitt, Meryl Streep and other A-listers. The photograph became the most retweeted photo in history, garnering over 1 million retweets in just the first hour.
The disappearance of Malaysian Airlines Flight MH370.
Relatives of Chinese passengers on MH370 demand answers after a Malaysian government briefing in Beijing. The plane, which was flying from Malaysia to Beijing and carrying an estimated 239 people, went missing somewhere over the southern Indian Ocean on March 8. The cause of the disappearance remains unknown.
Nigerians demand Boko Haram to #BringBackOurGirls.
A young South African student at a primary school writes the protests' message, "Bring Back Our Girls," on the chalkboard. Islamic militant group Boko Haram kidnapped 234 girls from their dorm room in Nigeria at midnight on April 15. To this day, their fate remains uncertain.
Brazilians protest the World Cup in Sao Paolo with powerful street art
This graffiti painted on the wall of a public school in Sao Paolo criticizes Brazil's decision to host the World Cup. Protests raged across Brazil in the lead up to the event over the country's decision to spend billions on the event rather than economic and social programs.
The bite seen around the world.
Uruguay's Luis Suarez holds his teeth after running into Italy's Giorgio Chiellini's shoulder during the group D World Cup soccer match between Italy and Uruguay at the Arena das Dunas in Natal, Brazil. This June photo — and Suarez's indiscretion — was undoubtedly one most memorable and ridiculous moments of the World Cup. 
A father shows his rage in the Israel-Palestine conflict.
The father of one of the four boys, all from the Bakr family, were killed in July during Israeli shelling on a beach in Gaza. Four children were killed and several injured at a beach in Gaza City medics said, in Israeli shelling witnessed by journalists. Their deaths were considered a low point in the latest round of fighting between Israeli and Palestinian forces.
The shootdown of Malaysian Airlines Flight MH17 in Ukraine.
The plane, carrying 295 people from Amsterdam to Kuala Lumpur, crashed near the town of Saktarsk, in Ukraine. American and German intelligence sources determined that it was shot down by pro-Russian separatists using a surface-to-air missile fired from the territory they controlled in eastern Ukraine. The Russian government blamed the Ukrainian government instead.
"Gaza looks like actual hell on Earth."
More than 2,100 Gazans were killed in violence between Israeli and Palestinian forces in August, including 513 children with 11,100 wounded; 66 Israeli soldiers and five Israeli civilians were killed and 469 IDF soldiers and 261 Israeli civilians were also injured.
Central American migrants travel to the U.S.
A group of Central American migrant children sit atop a train after it derailed and was stuck in a remote area in the rain for a day and a half. They are some of the estimated 74,000 unaccompanied children to cross the U.S. border this year. The decision on how to respond to this influx of immigrants was a major political issue in Washington throughout the year.
Britain commemorates the 100th anniversary of World War I.
Queen Elizabeth of Britain walks through the art installation Blood Swept Lands and Seas of Red, which features a field of 888,246 ceramic poppies to commemorate each of the lives lost in World War I.
Protests rage in Ferguson, Missouri, after Michael Brown's death.
A Ferguson protester lobs a tear gas container back at police officers Aug. 13 in the aftermath of the shooting death of Brown by a white police officer, in which St. Louis County police deployed militarized officers and rolled out riot gear in response to relatively peaceful protests.
The militarization of law enforcement comes to Ferguson.
A man raises his hands when confronted in front of heavily armored police forces during an Aug. 11 protest in Ferguson. Police rolled out militarized forces to respond to relatively peaceful protests over Brown's death. This photo became emblematic of what many saw as the excessive militarization of domestic law enforcement.
"Hands up, don't shoot" becomes a symbol of protest.
Five-year-old Gabrielle Walker puts her hands up in protest over Brown's death. "Hands up, don't shoot," has become a rallying cry justice. In late November, a grand jury declined to indict Officer Darren Wilson, sparking more protests against police brutality across the country
Ebola ravages West Africa.
In Libera, people suspected of contracting the Ebola virus were sent to a closed primary school originally built by USAID. Since Ebola first flared up in West Africa in December 2013, the death toll has surpassed 6,000, according to the World Health Organization. 
Beyonce Knowles performs at the MTV Video Music Awards.
Knowles stood up for feminists — and feminism — everywhere during her performance at the MTV Video Music Awards in August. This performance was just one of the many big moments that feminism saw this year. Her stance, and the death of Brittany Maynard, were one of the year's big moments in feminism.
Thousands demand democracy in the streets of Hong Kong.
Protesters have been rallying for months to champion democracy and to challenge Beijing's decision to restrict democratic reforms in the city. The protests still rage on as pro-democracy activists refuse to back down from their mission, even in the face of police force.
Same-sex marriage sweeps the United States.
In this Sept. 6, photo, Rev. Linda Hunsaker presides over the wedding of Vivian Boyack (left) and Alice Dubes (center), in Davenport, Iowa. More than seven decades after beginning their relationship, Boyack, 91, and Dubes, 90, were finally married.
This year, the U.S. Supreme Court announced that it wouldn't hear five states' pending same-sex marriage cases, which allowed for same-sex marriage in 11 more states. Same-sex marriage is now legal in 35 states, meaning that a majority of Americans live in states with marriage equality for the first time.
College sexual assault thrown in the spotlight
Columbia University student Emma Sulkowicz carried a mattress around campus as a visual reminder that the student she says raped her can freely attend school without any consequences while she carries the burden around on a daily basis. Sexual assault on college campuses was a major issue this year, with the White House releasing its first-ever report and task force to address sexual assault at America's universities.
Health workers battle Ebola across West Africa.
As health care workers treated Ebola victims, they weren't immune to the virus. The World Health Organization said an "unprecedented number of medical staff" had been infected.
The New Yorker called the outbreak the "most dangerous outbreak of an emerging infectious disease since the appearance of HIV" in the late 1980s.
Malala Yousafzai's Nobel Peace Prize makes history.
Yousafzai holds up her Liberty Medal, an honor given to those courageously fighting for liberty. The Pakistani 17-year-old also became the youngest Nobel laureate this year when she won Nobel Peace Prize for her work to end the oppression of children and to fight for the education of every child.
Tunisians go to the polls for the first time since 2011's Arab Spring.
October marked the first time that Tunisians have elected a five-year parliament since they overthrew their dictator in the 2011 revolution that kicked off the Arab Spring. 
A European space probe lands on a comet for the first time.
The mission to reach Comet 67P/Churyumov-Gerasimenko launched in 2004, and on Nov. 12, the European Space Agency Rosetta lander, Philae, became the first spacecraft to ever land on a comet.
The hug seen around the world.
Portland police Sgt. Bret Barnum and Devonte Hart, 12, hug at a rally on Nov. 25 in Portland, Oregon, during protests over the grand jury decision in Ferguson. This photo offered a glimmer of hope in the midst of ongoing protests against police brutality and racial injustice sparked Brown's death.