These Are the Badass Feminist Princesses We Should Really Be Showing Young Girls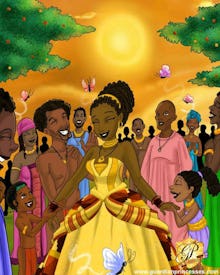 Say goodbye to the helpless princess trope we've grown accustomed to: Feminist princesses have arrived. 
Indeed, these are not your grandmother's princesses. The Guardian Princess Alliance is fighting popular princess culture one educational book at a time using culturally diverse, LGBT-friendly princesses who care about saving the environment and helping humanity. Instead of promoting external beauty and dependence on male saviors, the group hopes to "transform the cultural meaning of princesses and princes into positive role models who take action to protect living beings and the planet for future generations."      
So far, they're making good on their mission. The reimagined princesses are tasked with protecting certain natural resources, and their stories tackle issues such as land security, pollution, fossil fuels and agriculture. And they do it all without a Prince Charming.
Notably the most recent princess, Ten Ten, is the first-ever "gender independent" princess, according to the group's now-closed Indiegogo campaign. She "defies the gender norms of her culture; she refuses to wear dresses, has short messy hair and practices a martial art that has traditionally been exclusively for boys."
Despite being bullied, Ten Ten keeps at it and becomes a superhero. The story also highlights her mixed Chinese, Japanese and Korean heritage.
The Guardian Princess Alliance's founder, Setsu Shigematsu, was inspired to create these strong nontraditional princesses for the sake of her daughter.
"As an educator and mother with a young daughter, I was concerned with the messages of the dominant princess industry currently marketed to our children," Shigematsu told Mic. 
She wrote the first story, Princess Terra and King Abaddon, for her daughter's fifth birthday — from there, the series was born. 
"We get many emails and messages from parents, teachers, pediatricians and librarians who have all expressed how appreciative and excited they are that we created this project," Shigematsu said.
These Guardian Princesses are a vital alternative to the damsel-in-distress archetype children regularly consume in movies, TV and books and in the toy aisles. Not only are these princesses independent and accomplished, they are diverse — something lacking in today's princess culture that needs to be addressed. And it's something Ashanti McMillon, the Guardian Princess Alliance's co-founder, understands firsthand. 
"Being an African-American woman who grew up in a low-income household, I wasn't the princess with the glitzy and glamorous clothes who lived in a big house," McMillon told Mic. "I believe perseverance makes a true princess, and that's what we want young girls to realize. It doesn't matter if you are from the hood or from the suburbs. If you can believe in yourself and use your skills to make a positive change, then you are indeed a princess."