Britain Just Banned 9 Sex Acts From Its Porn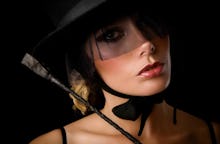 What's considered normal sex? It's usually a tough question, but the U.K. quietly censored Tuesday a long list of "no normal" acts in pornography — many of which seem targeted at female pleasure.
Through an amendment to the 2003 Communications Act, the Audiovisual Media Services Regulations 2014 requires porn streamed from online services to follow the same guidelines that the British Board of Film Censors lays out for pornorgaphy sold as DVDs in sex shops.
The list of "inappropriate" sex acts now includes spanking, caning, aggressive whipping, penetration by an object "associated with violence," physical or verbal abuse, urolagnia, female ejaculation, strangulation, facesitting and fisting — the last three being acts listed as potentially "life endangering."
While U.K. citizens can still access those types of pornography online, U.K.-based filmmakers and actors will no longer be allowed to produce pornography that falls into those categories.
Why it matters: The rules make no distinction between consensual and nonconsensual practices between adults. The amendment also appears to take issue with acts from which women derive pleasure, such as female ejaculation, but isn't clear which items can or can't be inserted into a consenting adult's body.
The move appears little more than an arbitrary prescription as to what constitutes "normal" sexual behavior, and many in the industry point to small fetish sites being shut down as added evidence of the board's arbitrary decision.
"They're simply a set of moral judgements designed by people who have struggled endlessly to stop the British people from watching pornography," Jerry Barnett of the anti-censorship group Sex and Censorship told VICE.
Banning consensual acts is also "absurd and surreal," Itziar Bilbao Urrutia, a professional dominatrix who also produces femdom porn, told VICE. "I mean, why ban facesitting? What's so dangerous about it? It's a harmless activity that most femdom performers, myself included, do fully dressed anyway. Its power is symbolic: Woman on top, unattainable."
The suppression of sexuality is not new to the U.K., writes award-winning erotic film director Erika Lust. The legislation aims to diminish how women perform and are perceived in the films. It also effectively turns erotic films into "boring, unrealistic male fantasy," Lust wrote.
"We need to rethink what is offensive or dangerous and what is, in fact, normal human nature, and remember that it's more important to educate than regulate."
h/t The Independent