24 Magical Moments from 2014 That Prove Jimmy Fallon Is a Musical Genius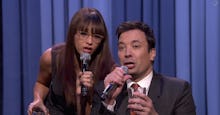 Jimmy Fallon is a comedic genius. 
The Tonight Show host has always found a way to make people laugh, starting from his days on Saturday Night Live. But now equipped with his own show, the 40-year-old continues to bring the funny to late night programming and has a weapon he's not afraid to use: music.
2014 has seen plenty of hysterical musical moments on Fallon's show. He isn't afraid to make a fool of guests, and more importantly he's not afraid of making a fool of himself. Lip-sync battles, collaborations with the Roots and his alter ego Sara all end in total absurdity that keeps people hooked on his musical moments. Here's a rundown of some of the best from the year.
1. Paul Rudd schools Fallon at lip-syncing and shakes his tailfeather.
Lip-syncing duels have become a hit on The Tonight Show and always result in a hilarious showdown between Fallon and his competitor. He might crush it with his performance of "Juke Box Hero" by Foreigner, but Paul Rudd steals the show with his fluid lips and hips while syncing to the classic "Don't Stop Me Now" from Queen. 
2. Idina Menzel joins the gang for a sizzling cover of "Let It Go."
Complete with ABC wood blocks, a colorful xylophone, a triangle and plenty of other instruments, this cover of the Frozen hit is completely charming. And of course Idina Menzel sounds amazing while showing off her impressive range and pipes. We're frozen in astonishment. 
3. The Muppets help say goodbye to Late Night as Fallon transitions to his new show.
When the Muppets show up, you know something adorable is going to happen. Miss Piggy gets her own solo, Kermit takes the mic for a bit and the rest of the lovable plush friends end up on stage in the last scene of the show. 
4. Will Ferrell is the Red Hot Chili Peppers' drummer's doppelgänger.
Everyone was seeing double when Will Ferrell showed up in the same exact outfit as Red Hot Chili Peppers drummer Chad Smith. While Ferrell was probably there to be the comic relief, Smith served up his Rock and Roll Hall of Fame-worthy drumming skills and reigned victorious over the funnyman in a no-contest drum-off.
5. Fallon gets a naked surprise on his 40th birthday.
Sexy? Maybe. Entertaining? Definitely. While in the nude, Seth Rogen and James Franco pop out of a gigantic fake cake. But that's not the real surprise: It's the legendary Stevie Wonder singing "Happy Birthday" to Fallon. 
6. Sarah Palin shows off her flute skills.
Fallon impersonates Russian President Vladimir Putin in this video, but that's not the best part. He calls up former Republican vice presidential candidate Sarah Palin, and the two talk politics along with taking on Pharrell's infectious "Happy." It looks like a tight friendship forms between the duo, and Palin even swings by Russia to drop off some good old-fashioned vodka. 
7. Sara (no H, ew!) has a dance party with the first lady of the United States of America.
Fallon's TeenNick alter ego Sara has become one of The Tonight Show's best segments with her show Ew! and her friends, who are some of the prettiest lookers. They were lucky enough to have Michelle Obama pay a visit to talk about the importance of nutrition and working out, along with advising the girls that a dance party is a perfect way to stay healthy. 
8. Tariq and the Roots open up the Chamber of Secrets with a nerd-tastic rap.
This mash-up of Harry Potter and rap enchanted audiences. Butterbeer, Albus Dumbledore and the Prisoner of Azkaban all make it into the rhyme-spitting. If anything, the only drawback is that it's a tiny bit short. Engorgio, please. 
9. Dad dancing never looked so cool.
New Jersey Gov. Chris Christie helped Fallon out with presenting the evolution of "Dad Dancing." You've definitely seen these moves done by high school dance chaperones and men at Bruce Springsteen concerts: the "Lawn Mower," the "I Saw This One on Dancing With the Stars" and more.
10. Audra McDonald belts preposterous responses from Yahoo! Answers.
Providing the desperate with witty answers on Yahoo! Answers takes a certain kind of talent. Winning six Tony Awards takes another kind of ability. Audra McDonald combines the two as she sings those well-crafted responses in her award-winning voice. 
11. Kevin Spacey puts an old-school spin on "Talk Dirty."
When you're able to look past the striped monstrosities this posse of dudes is wearing, you'll surely enjoy the ragtime rendition of the salacious Jason Derulo hit "Talk Dirty," a performance complete with Kevin Spacey and stacked with harmonies. 
12. "Harry Styles" swings by The Tonight Show.
We're so, so lucky that Kristen Wiig gave up some of her interview time so that Fallon could ask Harry Styles about how One Direction got together and what his favorite food is (carnitas, apparently). And Wiig was even luckier that the lyrics to "You Don't Know You're Beautiful" were on cue cards. 
13. Sara has another dance party.
This time, Sara and her friends take selfies and get down to Lil Jon's "Turn Down for What" before getting rudely interrupted by her stepdad Gary. The girls might not be at the club, but they got some nasty moves they definitely need to bring to the dance floor the next time they're out on the town.
14. Stephen Colbert officially wins with singing the iconic love-to-hate track "Friday."
Gotta get down to this. One of the most eclectic mix of people (Fallon, Colbert, American Idol winner Taylor Hicks and the Knicks City Dancers) delivers an outstandingly hilarious performance of Rebecca Black's "Friday." Complete with sparklers, a harmonica and a yeti, this number has pretty much everything you'd ever want. 
15. Fallon goes #throwbackthursday to the '80s.
Fallon, the Roots and friends from Universal Orlando join the "Dance Avenue" '80s dance line and boogie down like it's the era of disco balls and bad wardrobe choices. 
16. There's no trouble when Meghan Trainor stops by.
In classic Roots fashion, the summer hit "All About That Bass" got the jazzy hip-hop treatment. We're all about the use of a kazoo and ukulele to turn the pop sensation into an even more soulful version of the catchy jam.
17. There's no Clueless in this version of "Fancy."
Fallon brought back his impersonation of Grammy-winning musical artist Neil Young for a stripped-down cover of Iggy Azalea's "Fancy" with Crosby, Stills & Nash. Scrubbed of its hip-hop-meets-pop vibe, the track was turned into a folksy translation. 
18. Brad Pitt and Fallon converse solely through dance moves.
A picture may be worth a thousand words, but a couple of breakdance moves are just enough to have a conversation. The video comes complete with collapsed cardboard boxes coating the ground and a colorful boombox blasting jams. Word. 
19. Rashida Jones and Fallon croon what the holidays really are about. 
The duo's parodies of popular songs are spot on. They turn "All About That Bass" into an ode about eating tons on Thanksgiving, "Stay With Me" into a ballad lamenting lonely libations and "Turn Down for What" transforms into a dedication to turducken. Spending the holidays with Jones and Fallon sounds like a grand old time. 
20. Adam Levine surprises as a musical chameleon.
Adam Levine is already famous from being Maroon 5's frontman and serving as a judge on The Voice, but he should also be recognized for his ability to turn the Sesame Street theme song into something off a Michael Jackson album. And while Fallon flops while taking on "Old MacDonald Had a Farm" in Iggy Azalea fashion, Levine nails his musical impressions. 
21. Daniel Radcliffe's "Alphabet Aerobics" rap is spellbinding.
We already knew Daniel Radcliffe had acting chops after stunning audiences with several post-Harry Potter roles, but his dexterous and precise rapping abilities are mind-blowing. His performance of the hip-hop standard exemplifies his mad rap game. 
22. One of the best reunions ever happens through song.
Bob Saget, Dave Coulier and John Stamos reprise their roles as Danny Tanner, Uncle Joey and Uncle Jesse to help tuck Fallon into bed (not as creepy as it sounds, promise). The visit is jam-packed with Full House references and culminates in the trio's serenade of Elvis' "Teddy Bear." 
23. Emma Stone proves she's the lip-syncing master.
Emma Stone is a goddess who can truly do no wrong. When she isn't pointing out gender stereotypes or being one of Hollywood's hugest stars, she's on The Tonight Show totally kicking Fallon's butt with her unbelievable lip-syncing abilities. And between her and Paul Rudd, she definitely takes the crown with her flawless execution of "Hook" by Blues Traveler and "All I Do Is Win" by DJ Khaled (indeed, that is all she does). 
24. Sara finally shows off her lovely voice (with the help of Auto-Tune).
You're gonna seriously flip. Sara's trademark "Ew!" reaction gets turned into the best party jam ever with the help of will.i.am's mir.i.am character. "Ew!" covers all the bases: butt drama, duck lips, retweeting and ravioli. And of course, Sara's stepdad Gary has to show up and kill the vibe. The song even made it on the Billboard Hot 100.
Thanks to Fallon, laughter and music have come together for some fantastic 2014 moments.