Does Mubarak's Release Mean the Arab Spring Was a Total Failure?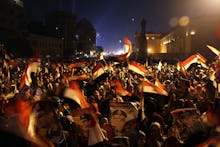 When young Tunisian fruit vendor Mohamed Bouazizi set himself on fire to protest a local official's attempt to displace his fruit stand on the morning of Dec. 17, 2011, he did not know that his powerful act of defiance would set off demonstrations against the government and ignite a revolution across the Middle East and North Africa.
The world was reminded Saturday of Bouazizi and the wave of protests he sparked when thousands of Egyptians surged into Tahrir Square and demonstrations erupted across the country over the release of former Egyptian ruler Hosni Mubarak, who was acquitted by a Cairo judge on abetting the murder of protesters in 2011.
As Mubarak exited the court in a hospital stretcher, the deposed leader smiled and raised his hand in celebration of a verdict to the chagrin of activists and protesters. Just as Tahrir Square was emblematic of the so-called "Arab Spring" of 2011, Mubarak was a symbol of the old regime, and with his acquittal at the hands of a Cairo judge, installed by Egypt's military rulers, many felt that the wave of revolution had officially ground to a halt.
Many international observers claim that, with the Mubarak verdict, the Arab Spring has come full circle. Bahrain and Yemen's protests failed to spark a full-blown regime change. Libya is now a playground for militias, with free elections a distant dream. And Syria is in the middle of a bloody, seemingly never-ending civil war. What started as a bright spot in the Middle East is effectively over. 
But the story of the Arab Spring is far from over — and its successes (and failures) may provide clues to the movement's final outcome.
A failure in Egypt: Every year since the toppling of Mubarak, the voices of dissent and civil society have further crumbled, both in Egypt and elsewhere. The rule of Mohamed Morsi and the current president, the former head of Egypt's armed forces, Abdel Fattah al-Sisi, has led to the conviction of three journalists this year and the convictions of 43 nongovernmental organization workers in 2013.
The verdict, a significant milestone in Egypt's post-revolutionary development, casts a gloomy shadow across the wider Arab Spring in Bahrain, Libya, Syria, Tunisia and Yemen. Mubarak's quiet exit from court on Saturday, with aides wheeling him out to an ambulance for his return to a military hospital, is a sharp contrast from the telegenic fury and chaos surrounding his ouster three years ago when thousands of protesters clashed with police and military forces in Cairo's Tahrir Square.
The trial is more symbolic of post-revolutionary politics and its broader trajectory rather than a vindication of Mubarak. And the verdict, cobbled together with flimsy evidence, is no surprise for Egypt's legal professionals.
"It also does not surprise cynics who see the 'vindication' of Mubarak as a culmination of the counterrevolution that began over a year ago with the demonstrations against then-President Mohamed Morsi, the military takeover and the election of just-retired Gen. Abdel Fattah al-Sisi as president," writes Tamara Cofman Wittes, a senior fellow and the director of the Center for Middle East Policy at the Brookings Institution.
The revolution, Wittes writes, "has moved from a noble popular uprising to a dark foreign conspiracy, pluralistic politics has moved from an expression of public will to a danger to social solidarity and domestic repression has moved from a moral outrage to a moral good."
A success story in Tunisia? While Egypt seems stuck in a post-revolutionary standstill, progress in one Arab Spring country has come in a form familiar to millions of Americans: casting a vote in the ballot box. In November, Tunisia became the first Arab Spring country to cast votes for presidential candidates in a transition government.
A high turnout in voting defied forecasts, with more than 5 million eligible voters traveling to polling booths despite security risks. The government deployed 80,000 security personnel around the country and up to 22,000 observers, 600 of whom were foreigners, monitored the elections, Al Jazeera reported.
For the wider Arab Spring, Tunisia may be an anomaly. Beyond its example, as the birthplace and cradle of the movement, "it's difficult to find another country that has experienced consequential change during the Arab Spring," Tunisia expert Chris Alexander, a professor at Davidson College, told Mic.
"There was a unanimous opinion among international observers that both of those elections were conducted in a very professional manner," said Alexander, who was in the country for the elections. There were some minor irregularities, but none were enough to question the validity of Tunisia's elections.
"They were not perfect elections, but no country has perfect elections," Alexander said.
An aspect of the imperfect elections show a fragile balance, one that is manifest in the two presidential candidates that, as Al-Monitor notes, has caught the country between two political extremes.
Beji Caid Essebsi, who served served as minister for several authoritarian regimes from 1956 until the ouster of Zine El Abidine Ben Ali in 2011, ran on a platform of experience, promising that he could pull the country out of an economic downturn and provide security. Yet his association with the iron-fisted regime gave many voters pause.  
"How will they know whether he will fall back into authoritarianism if faced with difficult economic and security issues?" Alexander said.
Voters were also hesitant to elect Moncef Marzouki, a human rights activist, considered a national hero for many Tunisians. Marzouki lacks a distinguished record as a statesman and Tunisians are also wary of his ties to Islamist groups.
"Some people wonder whether he has the ability to control the rudders of a modern state," Alexander said. 
Despite relatively peaceful elections, Tunisia remains a country caught between two extremes. Marzouki, known for his populist sentiment and criticized for his political failures as a member of the Troika party, aims to win against Essebsi, seen as the ghost of an authoritarian regime yet arguably capable of ensuring security and lifting Tunisians from rising unemployment. Essebsi had 39.5% of the popular vote, while Marzouki secured 33.4%. Many of the candidates' voters are already staunch supporters. The choice rests with the remaining voters (6% of the total), who will choose the next president in runoff elections provisionally set for Dec. 28.
No matter the outcome, the elected president's policies in the following months and years will determine whether Tunisia will serve as a success story for the Arab Spring.
Chaos in Libya. Results of the runoff elections in late December will show which political extremes, most Tunisians choose in the Arab Spring's first election for a transition government.
Miles away from Tunisia's elections, an armed conflict rages in the city streets of another country. In Benghazi, Libya, casualties number 400 in the six weeks of heavy fighting between Libyan pro-government forces and Islamist groups, Reuters reported.
Unlike Tunisia's historic vote, Libya's elections in June were marred with violence. Islamist groups did not win a majority, pushing them to seize government strongholds and the airport in the country's second-largest city, Tripoli. The ongoing siege is threatening to further destabilize the country.
Similar to many conflicts around the world, the catalyst of crisis is created by a minority of the entire population. Despite the conflict, "what you see in Libya is that people are voting," Ann Marlowe, an expert on Libya and visiting fellow at the Hudson Institute, told Mic.
"They don't vote for Islamists even though there are Islamist groups in the country. People are also waiting for court decisions," Marlowe said.
The legitimate government in Tobruk is in a perpetual tug-of-war with militants attempting to overtake strategically important cities like Benghazi and Tripoli, but many are optimistic that the Libyan army will take back Benghazi.
In November, the Libyan prime minister agreed to enter into dialogue, brokered by Sudan, with opposing factions. Though attacks continue, the talks bring a glimmer of hope for the warring parties.
What it all means: The verdict on Mubarak comes as sad news for families seeking justice for the deaths of their loved ones, but it also serves as a reminder of the consequences and legacy of authoritarian rule.
But years of dictatorship, though they make the possibility of democracy a distant dream, also hold the seeds to political and social progress. On the day of the court's decision, Egyptian human rights activist Ashraf Swelam tweeted this thought:
It's a reminder that these symptoms of dictatorship pushed dissenting voices — thousands of Egyptians in Tahrir Square, Libyan voters, Syrian teenagers and one young Tunisian fruit vendor — to change the course of history. And as the varied experience of Egypt, Libya and Tunisia show, it's an unpredictable, uncharted course.
Consider this: When President Richard Nixon visited Beijing in 1972, he asked Chinese premier Zhou Enlai what he thought about the impact of the French Revolution. The question was lost in translation, as Zhou assumed that the American president was speaking of much recent riots led by students in 1968, the Financial Times reported. Zhou's answer was simple: "It's too early to say."
Zhou's words resonate clearly in the many corners of the Middle East. Despite chaos in Libya, elections in Tunisia, and military rule in Egypt, it's simply too early to predict the final fate of the Arab Spring.