Red Bull Isn't Just a Drink — It's the Future of the Music Industry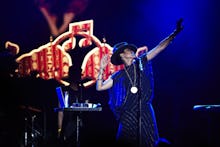 The whole world knows that Red Bull, despite their advertising to the contrary, doesn't really give you wings. What they may not realize is that for some of the best indie musicians out there, Red Bull gives them something much better: support and curation that labels can no longer provide.
For years now, Red Bull has actually been one of the most devoted supporters of our country's indie music scene. In a Fader essay called "How Red Bull Is Changing What It Means to Be an Independent Musician," Emilie Friedlander details how their inventive Red Bull Music Academy and Sound Select programs have helped break and support artists who are now fast becoming household names. Acts like Chance the Rapper, Le1f and electronic music producer Hudson Mohawke might not be nearly as famous today were it not for the company. The beverage giant's revolutionary involvement is only growing. At this point, if you see a band supported by Red Bull, it's safe to assume that they have a shot at being the next big thing.
The main way that Red Bull breaks new acts is through their Sound Select program. They highlight up-and-coming artists from around the world and work with them to get them huge new levels of exposure at big-name venues throughout the year. The brand recently got Los Angeles indie rock act the Bad Suns their first major festival slot at Hangout Fest this past summer. In their pre-show interviews, the band was giddy and nervous, fanboying out about all the acts they were going to catch after their own set. But they absolutely killed it when they took the stage. The band has since booked even more big shows around the country, adding more tour dates every month and releasing bold music along the way.
Last month, Sound Select highlighted genre-bending folk band Little TyBee and Air Review, having both acts open for the established indie act Kurt Vile and the Violators at a show at the First Unitarian Church in Los Angeles. Stereogum writer Ryan Leas was taken aback by the "impressive range and orchestration" of Air Review's songs, and thanks to the association with Kurt Vile, a lot more people may soon hear their stunning guitar work.
Parts of Red Bull's Sound Select are also dedicated to helping artists familiarize themselves with strategies on how to manage the complexities and difficulties of today's music industry.
"It's about helping them to navigate the business in music and helping to support them to get where they want to go," Stephen Canfield, a representative for Sound Select, told Fader. "I think probably the best way to think about it is that it's kind of similar to how we develop athletes, as a company."
And the music is good enough that it's unimpeachable. Somewhat surprisingly, Red Bull's intervention in the indie scene has drawn little of the same criticism that other companies have. Fans and artists have absolutely torn apart the likes of Doritos, Subway and AT&T, which all hopped in bed with the indie music scene by contributing to last year's SXSW festival. Rising indie rapper ScHoolboy Q gave a scathing critique of that corporate intervention, saying, "I'm tired of performing and seeing my fans outside the gate ... It's not about the fans no more. It's all about money [and] who can give you the best look."
For the most part, artists working with Red Bull have not expressed anything like this, mainly because the company doesn't put the same emphasis on profitability — it seems to care mainly about being associated with badass acts. To those taking part, it feels more like a community of like-minded patrons and artists capable of supporting odd ducks like disco-loving Sound Select band Roses. 
This is the kind of thing the music industry so badly needs — a nurturing community that aims for something unique and high quality. Red Bull has been able to bring out the best in the artists they've worked with, while helping them understand the tougher aspects of the business.
That stands in stark contrast to the experience of artists going through traditional channels who are struggling to draw revenue from new music distribution models. As Mic's Matt Pollock recently wrote, big labels are growing more and more hesitant to hire acts with styles that diverge heavily from sounds that are already proven to be successful. But Red Bull is getting money to the acts that deserve it and encouraging new, genre-pushing music. The cash cows of corporate patronage don't necessarily have to be as evil as rock music may once have claimed — sometimes they even give you wings.
h/t Fader