These Were 21 of the Greatest Albums of 2014 — But You Probably Didn't Hear About Them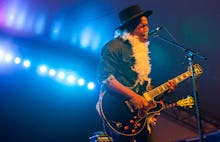 It's the end of 2014, and a lot of platforms like Facebook and Twitter are releasing numbers about the most popular songs of the year. But 2014 had way more to offer than its hits, and it's important to look beyond the charts before the new year arrives.
Here are 21 of the best albums of the year that deserve more end-of-year love than they'll get:
1. 'American Middle Class' by Angaleena Presley
Best known as one third of the Pistol Annies, Angaleena Presley struck out on her own with American Middle Class, her debut studio album. An honest portrayal of small town life, the album mixes the heavy with the humorous for one of the most interesting country releases of the year and the perfect antidote to the unrealistically idealistic "truck songs" currently plaguing mainstream country radio.
2. 'Bahamas Is Afie' by Bahamas
Don't let the name (or the record label, Jack Johnson's Brushfire) fool you — Bahamas is way more than lite beach rock. Afie Jurvanen crafts warm, engaging folk-tinged songs with emotive lyrics and singalong choruses. Given the recent glut of Mumford's sons choking up the airwaves with cookie-cutter, overly earnest faux folk, Bahamas' laid back, banjo-free approach is refreshing to say the least.
3. 'Benjamin Booker' by Benjamin Booker
25-year-old New Orleans transplant Benjamin Booker is bringing the blues back to the mainstream, one smokin' hot riff at a time. His self-titled debut shows off both his guitar and songwriting chops with driving, often frantic tracks that sound like nothing else in music right now. If you're into early Black Keys, can't get enough Jack White or just love a good guitar solo, Booker's self-titled debut should be right up your alley.
4. 'Just Hip Enough to Be Woman' by BRONCHO
If you've heard BRONCHO's "Class Historian" even once, you know that the Oklahoma power pop band is capable of writing a catchy tune. The rest of the tracks on their sophomore album Just Hip Enough to Be Woman are just as catchy, so don't say we didn't warn you when you can't stop listening.
5. 'Evergreen' by Broods
2014 was a big year for Broods. The New Zealand brother-sister duo released their debut album Evergreen and spent a good chunk of time touring the United States with rising megastar Sam Smith.
Produced by Joel Little (who helmed Lorde's Pure Heroine), their album shares a lot sonically with the duo's fellow Kiwi, but does so without feeling derivative. Look for Broods to develop a higher profile next year thanks to moody pop earworms like "Four Walls" and "Bridges."
6. 'Salad Days' by Mac DeMarco
Though "salad days" is a Shakespearean term for a time of youthful idealism, Mac DeMarco's Salad Days is an album that shows an artist who has come of age. Tackling heavier topics than earlier albums like 2012's 2, Salad Days keeps the easy melodies DeMarco is known for while injecting a new emotional heft we hadn't yet seen from the Canadian songwriter. 
7. '... And Star Power' by Foxygen
A 24-song epic, ...And Star Power covers a lot of sonic ground, but in the end is as close as you'll come to a '70s rock throwback this year. First single "How Can You Really" is a great taste of the melodic throwback rock you'll find on the album, a nice change of pace from the spare, lo-fi mentality that has been so prevalent in indie rock over the last few years.
8. 'Songs' by John Fullbright
There aren't many musicians writing songs like Americana artist John Fullbright, so it's appropriate that his most recent album is simply titled Songs. Filled with delicately arranged, beautifully written modern folk songs, Songs is the latest offering from a new wave of Americana talent, and is the perfect album to get you through the cold first few months of 2015. 
9. 'And the War Came' by Shakey Graves
With a name like Shakey Graves (we can pretend his real name isn't actually Alejandro Rose-Garcia), it's no surprise that this Austin songwriter is crafting some of the best Americana music to come out in recent years. Check out "Dearly Departed," a jangling duet about death and heartbreak recorded with frequent collaborator Esme Patterson that owes as much to classic country as it does to modern folk.
10. 'What Is This Heart?' by How to Dress Well
The album cover of What Is This Heart? is a close-up of How to Dress Well brainchild Tom Krell's face. The image is appropriate — the album is an intimate collection of gorgeously layered pop songs about love and heartache that goes deeper than Krell's past material ever has, making for a listen that is as affecting as it is enjoyable.
11. 'Luke James' by Luke James
Luke James is making the brand of no-frills R&B that is hard to find on current popular radio. With his self-titled debut album, though, he has quickly established himself as enough of a talent to bring the genre back into the forefront. Think Usher, Drake and John Legend all rolled into one falsetto-equipped package. Oh, and did we mention he toured with Beyoncé? 
12. 'Kin' by Larkin Poe
Maybe you've never found yourself craving a Southern-fried Haim, but one listen to sister duo Larkin Poe and you'll realize it's just what you needed all along. Having honed their chops playing backup for Elvis Costello, the sisters of Larkin Poe deliver 12 tracks of twang-infused folk rock on their debut, Kin. They're distantly related to Edgar Allan Poe, too, so they come by their writing skills honestly.
13. 'Bass & Mandolin' by Edgar Meyer and Chris Thile
Two of the most virtuosic musicians alive, Meyer and Thile rejoined forces for Bass & Mandolin, a collection of instrumental tracks that showcases the duo's immense talents. And with track names like "The Auld Beagle" and "Monkey Actually," it's as fun a listen as it is impressive. 
14. 'Parker Millsap' by Parker Millsap
Raised in the Pentecostal church, Parker Millsap has a natural knack for writing stomp-along, gospel-infused country songs. He also has a knack for turning those conventions on their heads, as evinced by "Truck Stop Gospel," a tongue-in-cheek look at road warrior evangelists.
15. 'No Mythologies to Follow' by MØ
2014 was a big year for brooding female pop stars (like Lorde and Tove Lo), and while MØ followed in those footsteps to a degree, it was her willingness to explore the lighter side of pop music that made No Mythologies to Follow such a refreshing listen, so much so that she earned a guest spot on Iggy Azalea's song "Beg For It." Plus, any artist who covers Spice Girls songs has to be alright.
16. 'A Dotted Line' by Nickel Creek
After a seven year hiatus, progressive bluegrass/folk trio Nickel Creek surprised fans by returning with A Dotted Line, their fourth major release. Packed with harmonies, expert musicianship and an unorthodox cover (of Canadian band Mother Mother's "Hayloft"), A Dotted Line seamlessly picks up where the trio left off.
17. 'I Will Not Be Afraid' by Caroline Rose
Caroline Rose may be a newcomer on the folk/Americana scene, but the early critical acclaim she's received (from outlets like NPR and American Songwriter) would have you believe otherwise. Her recent offering I Will Not Be Afraid tackles a number of topics, including gun violence on the powerful track "Blood on Your Bootheels." The latest in a growing trend of politically-aware folk artists, Rose is a sharp-eyed addition to an important musical movement.
18. 'Lese Majesty' by Shabazz Palaces
Shabazz Palaces have been making some of the most interesting hip-hop around since they released Black Up in 2011. With their sophomore album Lese Majesty, the group continues to push boundaries by merging an experimental sound with classic hip hop sensibilities. This isn't the kind of hip hop you'll hear on the radio, but it's definitely something you should hold in the same regard as more mainstream collectives.
19. 'Half the City' by St. Paul and the Broken Bones
If you aren't moved by Paul Janeway's take-you-to-church vocals, you might not have a soul. This Birmingham based seven-piece is making some of the best soul music you'll hear today, and Half the City should be a new staple in any soul fan's collection. Still not convinced? Check out their live performances, which are as good as any band's today.
20. 'Hell Can Wait' by Vince Staples
One of the best hip hop releases of the year, Vince Staples' Hell Can Wait packs an album's worth of a punch into 21 minutes. Be sure to listen to "Hands Up," a track that, with lines like "Shoot him first without a warning / And they expect respect and non-violence," especially carries weight in light of recent events in both Ferguson, MO, and New York City.
21. 'Awake' by Tycho
Tycho, also known as producer Scott Hansen, has been creating atmospheric, instrumental pop songs since he released his debut album Sunrise Projector in 2004. With his most recent offering Awake, he brought in a three-piece band and filled out his sound for a truly epic listening experience, one that proves you don't have to have lyrics to tell musical stories.