This Animated Short Film Captures a Side of Robin Williams We've Never Seen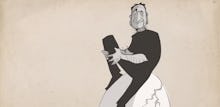 The news: Even though iconic actor and comedian Robin Williams passed away in August, one thing is clear: His artistic spirit and cultural impact will always be here to stay.
The PBS series "Blank On Blank" posted Tuesday a fitting tribute to Williams: an animation of his 1992 interviews with Lawrence Grobel for a Playboy magazine profile. The interviews are peppered with Williams' trademark character bits and rapid-fire wit, but they also showcase a side of him that we rarely got to see — an artist who believes in the vital, societal function of comedy:
"Yeah, for a comic especially, to constantly never let it take itself seriously, to play with, to fuck with the parameters," Williams said when asked if the artist is important for society. "The premise that comedy is there to show us we fart, we laugh. To make us realize we still are part animal," 
"As intellectual as we think we are, you still trip, we still have human foibles, sexuality, all the different things to still make you aware of your humanity. That's what we're supposed to do," he adds. "So you don't take yourself seriously and destroy the species."
In the fairly encompassing interview, Williams also shared his thoughts on family, future, flaws and sex faces:
"The last time we spoke, I asked him what he would like to be known for?  He answered, 'The benevolent fool,'" Grobel said about his interviews with Williams. "He had the fastest mind, the most spontaneous way of thinking, and he was a genuinely nice guy.  ... But it's just so hard to imagine he's gone. He was such a bright light in such a darkening world."
A variety of other "Blank On Blank" animated interview with celebrities like Meryl Streep, Kurt Cobain, Grace Kelly and John Lennon are also available.