Straight People's Yelp Reviews of Gay Bars Are Even More Clueless Than You Might Think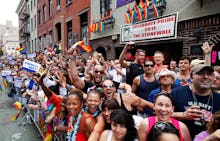 The world needs gay bars.
From entertainment, to advertising, to office conversation, many aspects of our culture are overwhelmingly straight. Gay bars are spaces for LGBT individuals to relax and immerse themselves in an environment that reflects their own identity for once. 
With the increasing social acceptance of the LGBT community, straight people are becoming more comfortable going into these traditionally queer spaces. And while straight people, of course, should not be banned from gay bars, as that would be blatant discrimination, they should be respectful of the fact that the spaces they are entering are still, well, gay.  
Unfortunately, it looks like some people didn't get the memo. If the many one-star Yelp reviews of these bars are any indication, some straight men and women don't totally understand that not all spaces are meant for them. From straight men complaining about the attractiveness of lesbians to straight women who get angry about the gay guys hitting on their boyfriends, the reviews are too tone-deaf to take seriously. 
We can, however, laugh at them. Behold, straight people reviewing gay bars:
Henrietta Hudson, in New York City — "gay people cannot have nice things":
"Theo" doesn't like that the lesbians "dress like their heterosexual counterparts" in "ugly, conservative blouses and 'mom' jeans":
Pieces, New York City — "straight girl, get off the stage":
Woody's, Philadelphia — "I felt discriminated against":
Lexington Bar, San Francisco — "if you have a dangling unit, don't go there":
"Justin" says of the Lexington, "it is not my scene and I was not welcome":
The Edge, San Francisco — "unless you can grow a penis," straight girls should think about going "somewhere else":
The Abbey, West Hollywood — your love of nachos will come with a lot of gay stares at your boyfriend:
801 Bourbon Bar, Key West — "I really felt unwelcome because we were a couple, not gay":
Paradise Bar, Cambridge, Massachusetts — straight girls looking for their "'ugh ts ugh ts ugh ts' beat" need to go to a "not-gay" club:
"I like a gay club as much as the next straight girl":
"I may be straight — but nobody likes a dirty hole":
Pony, Seattle — this gay club doesn't care if you went to the "Estée Lauder tri-annual beauty seminar," you aren't getting served:
Scandals, Portland, Oregon — "Don't make me use the 'Duh' word":
Round-Up Saloon, Dallas, Texas — those "chicks" are probably dudes, dude:
Phase One, Washington, D.C. — a lesbian bar where your "lumberjack-style beard" will receive man-hating glares:
These reviews may make us chuckle, but it is important to remember that gay bars are going the way of the dinosaur, so the LGBT community is more protective of them than ever before. Partly because of gentrification, and partly because of assimilation, more and more of these bars, which have historically been safe havens for socially marginalized queer people, have been shuttering their doors every year. For example, the Lexington — the last remaining lesbian bar in San Francisco — has decided to close at the end of this year. 
While mainstream culture has become more accepting of the LGBT community, the price of assimilation should not mean the erasure of the very spaces that secured, protected and nurtured this community. Gay bars are our comfort zones – especially considering how a recent poll proves that while Americans approve of LGBT rights, they are much less accepting of PDA. Point blank: We need gay bars to make out with each other without a straight side-eye of disapproval glaring at us and trying to shame us. 
Perhaps Yelp reviewers who patronize gay establishments should keep this in mind.
h/t Autostraddle