What True Love Looks Like Today, in 10 Uplifting Photos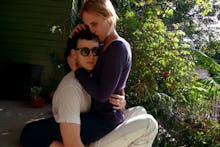 Last month, Japan sent a message when one of its most widely-used dictionaries changed the definition of love to be gender-neutral. Love, according to the new definition, is no longer "affection between a man and a woman," but simply "affection for a person."
The change is an important reminder: Love doesn't have one simple definition, and it isn't always expressed in straightforward ways. Saying "I love you" is great; but, cheesy as it sounds, the "L word" feeling is perhaps more meaningful in the face of extraordinary hurdles, low moments and disillusioning times of history.
There were plenty of crappy things that happened this year, big and small. Here are the photos from 2014 that reminded us that love, in all forms, still held true.
Love isn't hampered by physical limitations.
After being in paralyzed in a motorcycle accident shortly after returning from duty in Afghanistan in 2012, Sgt. Joey Johnson surprised his bride, Michelle, on their wedding day by standing up, via a harness, for their first dance as husband and wife. LinneaLiz Photography was there to capture every emotional moment; there definitely wasn't a dry eye around the dance floor. 
Nor does it shrink in the face of serious obstacles.
In 2012, Taylor Morris lost most of his four limbs in a bombing in Afghanistan. Since then, his girlfriend, Danielle Kelly, hasn't left his side while he's undergone intensive rehabilitation. Finally, in September 2014, after nine years of dating, Morris popped the question, and the two lovebirds are now officially engaged.
Love knows no gender restrictions.
As Rhys Ernst transitioned from female to male, and Zackary Drucker transitioned from male to female, the trans partners decided to chronicle how their relationship changed along with them. Out of the hundred photos that they took over the five-and-a-half year process, they chose 46 to put in an exhibit, Relationship, which is now on gorgeous display the Whitney Biennial. 
Love can live on even when people are gone.
On more than one occasion, an unnamed California man has been spotted eating at an In-N-Out Burger with the photo of his deceased wife next to him. According to sources who talked to the man, after more than a decade apart and a long search for each other, the man and woman tied the knot in 1954 and stayed married for 55 years until her death in 2009. Apparently, the man never leaves home without a picture of his soul mate.
Love is patient, even when it needs to wait 72 years to be honored.
Des Moines residents Alice "Nonie" Dubes, 90, and Vivian Boyack, 91, finally got hitched on Sept. 7, 2014, five years after Iowa made same-sex marriage legal in 2009. They wed at a church in Davenport, Iowa, where they've lived together since 1947.
"The best part of it is all the love we've received, in response from all the people [to their wedding]," Boyack told the Guardian. "It's all been good."
Celebrations of love aren't limited to people.
Hear us out: Storks might seem like an odd choice, but considering the intensity and duration of their love, it would be wrong to not include them. About two decades ago, Croatian stork Malena was wounded by a poacher's gunshot and has been unable to fly ever since. Klepetan, her main squeeze, despite giving in to the instinctual call to migrate to Africa every winter, returns to her each spring, and has been doing so for 12 years as of March 2014. 
Compassion is love shared between the people who need it most.
Source: chambersvisuals/Instagram
It was in the heated moments after the world realized that Officer Darren Wilson would not be indicted for the murder of Michael Brown that protesters took to the streets. In one such protest in Portland, Oregon, 12-year-old Devonte Hart, held a sign offering free hugs. Officer Barnum noticed the boy and the sign and asked if he could get "one of those," and what followed was one of the most beautiful examples in the Ferguson aftermath of love being stronger than hate.
Love emerges in moments of overwhelming gratefulness.
When Andrew and Amanda Hanson of Kuna, Idaho, gave birth to their second child, Karson, earlier this year, they were still mourning the loss of their first child. Klayton had died shortly after being born in 2013 due to complications during the birth with meconium aspiration. But photographer Sarah Ledford of ShutterHappy Photography caught every moment of Karson's safe and successful birth, not to mention the emotional wave of joy the exhilarated dad felt.
"I looked back at Dr. Hodges and I saw how relieved he was, too, and I couldn't help it, I just had to give him a hug," Andrew Hanson told USA Today. "It just felt right."
Love doesn't follow rules or reason.
Despite being told by her superiors that she and her fellow soldiers were not to "fall out" until given permission at a homecoming event, Kathryn Waldvogel of Little Falls, Minnesota, couldn't stick to that. Instead, the mother of 3-year-old Cooper broke ranks when he ran up to her looking for a hug from his mom. Having just come home from a nine-month duty in Afghanistan, who can blame her?
Love doesn't fade, even when photos do.
They met when they were just teens at Princeton University. "Mary and I looked at each other and it was truly just 'Bang!'" Peter Funk told a local news station in their hometown of Keene, New Hampshire. "It was love at first sight. It really was." Seventy-two years later, Peter and Mary Funk are still crazy about each other and celebrated yet another wedding in November 2014.