11 Amazing New Shows From 2014 You Probably Missed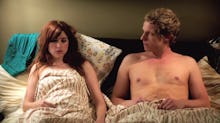 It seems television gets better each year.
Just a few years ago, HBO was the network with high quality drama. Now there are dozens of choices on your TV and off, from cable networks like FX and Cinemax to streaming portals like Netflix and Amazon.  A list of the best new shows is becoming increasingly difficult as 2014 was full of them. And while there were definitely some you've heard of — the True Detectives and How to Get Away With Murders of the world — not every fantastic new series has received the buzz.
Here are 11 shows you may have missed this year that are going to be essential viewing in 2015 — and how you can watch them right now.
The Knick
Steven Soderbergh broke movie buffs' hearts when he said he's retiring from filmmaking, but if his "retirement" includes projects like The Knick, then we really have nothing to complain about.
The Cinemax series tells the story of New York City's Knickerbocker Hospital in the early 1900s and its cutting-edge but troubled chief surgeon John Thackery (Clive Owen). What seems at first like House meets Boardwalk Empire evolves into a textured, brutal look into a pivotal time in medical and American history through the eyes of endlessly deep characters.
The show hits on topics of race, class, disease, ethics and more, and Soderbergh brings an uncompromising eye that results in what may be the first purely auteur-driven TV show. It's more visually interesting than anything else on the air. You could even watch it with the sound off and be amazed.
Where to watch: Max Go or DVD/Blu-ray.
Manhattan
This 1940s period drama on WGN and is about the development of the atomic bomb and the scientists laying it all on the line. What's WGN? We're not entirely sure, but by no means should that stop you from watching this show.
The Los Alamos military base provides the perfect backdrop for both family and workplace drama. John Benjamin Hickey leads a brilliant cast that includes Olivia Williams, Daniel Stern, Ashley Zukerman and Richard Schiff, among others. 
Manhattan isn't reinventing the wheel of ensemble dramas, but it's executing the form at a high level: Each character feels fully formed and provides the writers with a wealth of stories. All of which are anchored in the struggle to develop the bomb as fast as possible, while dealing with the secrecy of the Army and the gravity of World War II. If you're a fan of Mad Men, you should definitely watch this.
Where to watch: Amazon, Hulu Plus or iTunes
Fargo
Fargo should not have worked. Trying to remake the Coen brothers is setting yourself up to fail. Why would FX even gamble on trying to take them on? 
And yet, director Noah Hawley and crew totally nailed it. Fargo is a bleak, heartbreaking, wickedly funny and deeply provocative take on the themes of original film, that while telling a new story, feels part of the original. Many of the Coen brothers' favorite ideas and motifs are there, such as religion and existentialism, but the longer TV format gives Hawley time to expound upon them in greater detail. 
Billy Bob Thornton is perfectly cast as the devilish Lorne Malvo, Martin Freeman will surprise you at every turn and newcomer Allison Tolman proves why she's one of Hollywood's most buzzed about new stars. And that's not even mentioning Colin Hanks, Keith Carradine, Oliver Platt, Glenn Howerton, Adam Goldberg and Bob Odenkirk. True Detective may have gotten all the buzz this year, but the true crime drama that will keep you on the edge of your seat is Fargo.
Where to watch: Amazon, iTunes or DVD/Blu-ray
Halt and Catch Fire
AMC has been struggling recently to find its next great hit. Breaking Bad is over, and Mad Men is ending,  which leaves just The Walking Dead as its sole breakthrough. 
In its first season Halt and Catch Fire failed to, well, catch fire with audiences, but its merits should not be discounted. Another period piece, this one is set against the PC revolution of the 1980s and a small Texas software company that is about to enter the tech race in a big way. 
Lee Pace steps into the mysterious anti-hero role, while Scoot McNairy plays the hesitant family-man engineer he drags into his scheming. But the series' strength lies in its two female leads. Kerry Bishé plays McNairy's wife but gets way more to do than the stereotypical cable drama wife, and Mackenzie Davis charms as an unpredictable young coder entering a man's world. It takes some time to get going, but as the plot builds, the show becomes a delightful indulgence.
Where to watch: Amazon, iTunes or DVD/Blu-ray
The Leftovers
What if 140 million people suddenly disappeared? What would the world look like and how would those left deal with this tragedy? That's what LOST producer Damon Lindelof and author Tom Perrotta's HBO drama is trying to answer. 
As far as TV shows go, it doesn't get much darker than this. Every episode is a study in mourning and spirituality, but at its best The Leftovers can grip the audience like no other. Justin Theroux leads a brilliant cast that includes Amy Brenneman in a nonspeaking role, Christopher Eccleston, Liv Tyler, Ann Dowd and scene stealer Carrie Coon. Seriously, Coon is reason enough to watch.
Where to watch: HBO Go or Amazon 
Review
Comedy Central's Review seems like a straightforward satire. Andy Daly plays Forrest MacNeil, a mild-mannered yet pompous TV host and critic who sets out to review intense life experiences like theft, racism and addiction. Each week he takes on three aspects of life itself and hijinks ensue. 
Think you understand this show? Think again. Over the course of the first season, MacNeil's life begins to break down. His work hopelessly bleeds into his personal life and tears it apart piece by piece. We learn that the show has been about so much more than reviewing. It's hard to explain, but make sure you watch more than just one episode. Daly's unwavering commitment only elevates it even further.
Where to watch: Amazon or Hulu Plus
You're the Worst
Virtually every broadcast network attempted to launch a romantic comedy this fall, and almost all of them have been canceled. Meanwhile, FX quietly wrapped up its sharpest new comedy since Louie. 
You're the Worst is an anti-rom com that tells your typical boy meets girl story, except the boy and girl, as the title says, are the absolute worst. Despite all this, you'll find yourself helplessly falling in love with them and their cynicism. This is largely thanks to utterly winning performances by Aya Cash and Chris Geere. Creator Stephen Falk, who worked on Weeds and Orange Is the New Black, rounds out the cast with sidekicks Desmin Borges and Kether Donohue but never once banishes them to marginal punchlines. 
You're the Worst is a hilarious reflection of modern dating and is pulling off one of the most remarkable balancing acts on TV. 
Where to watch: Amazon or iTunes
Transparent
Amazon's foray into television hasn't been a secret, but the only true winner to come out of their very public pilot process is Transparent. Jeffrey Tambor stars as Maura, an older transgender woman still known to her family as Mort, who unwittingly comes out. 
Transparent deserves praise for both its LGBT narrative and its brilliant mix of comedy and heart. While creator Jill Soloway cast a cisgender man in the lead, Mic's Samantha Allen writes the show, "breaks away from the pack by approaching Maura's transition with a refreshing degree of sensitivity and respect."
Where to watch: Amazon
Silicon Valley
Office Space director Mike Judge returned to the working world of technology this year with his new HBO series Silicon Valley. The ensemble comedy about a group of coders working in the inherently comical world of start-ups and tech giants is a startling reflection of the industry and its eccentricities. The late Christopher Evan Welch gives the performance of his career as bizarre entrepreneur Peter Gregory, while Thomas Middleditch, T.J. Miller and Kumail Nanjiani get the chance at breakout roles. 
The show is severely lacking in female characters, which while an honest portrayal of the industry Judge is hoping to represent, is a problem. Thankfully they're course correcting in the upcoming season.
Where to watch: HBO Go, Amazon or DVD/Blu-ray
BoJack Horseman
Orange Is the New Black and House of Cards seem to get all the glory when it comes to Netflix original series, but the streaming service's new animated series BoJack Horseman is another fine example of risks paying off. The show follows a washed-up '90s sitcom star who also happens to be a horse (Will Arnett), his lazy roommate (Aaron Paul), his biography ghostwriter (Alison Brie), his cat agent (Amy Sedaris) and arch nemesis a dog named Mr. Peanut Butter (Paul F. Tompkins). 
BoJack sets itself apart in two major ways. One, many of the episodes are serial, which is a rare thing to see in adult animation, and two, it brings a heavy dose of heart and true emotion. Just when you think you've seen an entire season of irreverent animated comedy you realize you may have been watching a drama all along.
Where to watch: Netflix
Broad City
If you like Girls but think it could be less shallow and way funnier, Abbi Jacobson and Ilana Glazer are going to be your new best friends. Like Lena Dunham's series, Broad City tells the story of young struggling women in New York, but unlike Dunham's series it's sidesplittingly funny and dialed up to 11. 
Jacobson and Glazer are effortlessly likable and hilarious as they navigate the challenges of apartments, parties, hooking up, weddings and all the other foibles of modern 20-something life. They're not trying to make a bigger statement about the human condition though, they're just trying to be funny — and succeeding. Producer Amy Poehler and Comedy Central struck comedic gold when they gave these two their own show.
Where to watch: Comedy Central, Amazon or DVD