Mary J. Blige Just Released an Anti-Domestic Abuse Video That Everyone Needs to See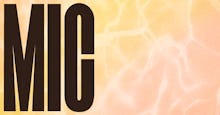 There's a reason Mary J. Blige is known to many as the Queen of Hip-Hop Soul, and she's proved it again today.
Blige just released the music video for "Whole Damn Year," a single from her new album The London Sessions that powerfully addresses the destructive cycle of domestic abuse that so many suffer alone.
It's a realness largely missing in music today, but one Blige continues offering selflessly. 
From her early 90s debut with What's the 411? to the soaring popularity of her Grammy-winning 2005 album, The Breakthrough, Blige has consistently made the most of her deepest pains — unearthing struggles with heartbreak, substance abuse and violent relationships all while creating timeless music that not only resonates with listeners, but also offers inspiration for survival and resilience. In the process, she has earned the distinction of being perhaps the rawest, most passionate R&B vocalist of her generation. 
"Whole Damn Year" takes up that mantle again. It represents the eerie confession of a woman who continues living with the weight of the pain from abusive relationships and openly shares the emotional turmoil with a new lover. The video itself walks through difficult-to-watch instances of abuse, demonstrating that the pain doesn't ever totally leave a victim on the road to recovery. Those scenes play as a backdrop, while Blige sings about being hesitant to share intimacy because she's still coping with the pain of her past. 
And that's just the beginning of a world Blige introduces to listeners — one where everything seems wonderful on the outside but underneath it all lies a pain that most would struggle to understand.
Blige herself is no stranger to the cycle of domestic abuse, having spoken openly about witnessing her PTSD-stricken, Vietnam War veteran father routinely abuse her mother, who herself struggled with alcoholism in the midst of it all. Not long after the family moved to escape the father's abuse, Blige was molested by people who were entrusted to keep her safe, while her single mother worked to support the children. It's from that pain that Blige found an outlet in the arts, though she became gripped by drug and alcohol addiction during her teenage years as an additional means of coping. 
And though she's beaten her addictions, she's still aware of how her past still haunts her now. In a 2008 interview with The Guardian, Blige spoke candidly about her relationship with producer and husband Kendu Isaacs, who she'd been married to for five years. And she explained why her newer music carried themes of emotional withdrawal and not being able to fully reciprocate love. 
"I still can't give [Isaacs] all of me. I need something to walk away with, just in case he decides to walk out the door," she said in the interview. "I pray that one day I get to say, you know, 'Here it all is.' But — this is real talk — sometimes I really don't want it."
But in the midst of working through her own pains, Blige has brought joy and hope to many. And she's inspired many fans, earning countless more, by sharing her newfound happiness and the many lessons she learned along the way. In 2005's The Breakthrough and the subsequent follow-up albums, she offers her life as proof that one can find peace while overcoming tragic circumstances.
So it's not surprising, then, that in true Blige fashion, "Whole Damn Year" ends on a hopeful note. The battered mother finds a way to smile again and raise her daughter solo in a new, stable home environment. The bullied gay youth brings a boy home, sharing an embrace with the father who once disparaged and beat him. And the young woman who still bore the scars of an abusive past is able to share herself with a new lover. But the video itself is a sobering reminder, as are Blige's words, that moving toward a better place just doesn't happen overnight.
That level of awareness is why this song — and Blige's artistry as a whole — offers a depth of emotion and honesty that's not nearly as evident in most mainstream music. And it's why both her voice and her message remain relevant and necessary.