One Comic Depicts the Greatest Moment Hip-Hop Has Ever Known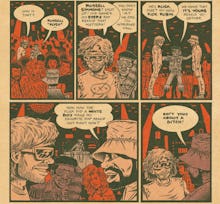 At first, Russell Simmons refused to believe that the man responsible for creating his favorite hip-hop record of 1984 was white. But when he met Rick Rubin, a young, gifted beat-maker from Long Island, he set in motion the most important moment in hip-hop history. Together these two visionaries built Def Jam Records, the biggest hip-hop label the world has ever known. It brought hip-hop out of the house parties of the Bronx and into radios across the country, where it grew into the fascinating global phenomenon it is today.
A few months ago, Ed Piskor brought this moment to life for his brilliant comic The Hip-hop Family Tree. In this bi-weekly comic and book series, Piskor has charted hip-hop history from its roots in 1973 through 1984. This moment looks innocuous at first, but it is the foundation upon which hip-hop rests.
Thirty years ago, Rick Rubin founded Def Jam in his NYU dorm room. He dragged his twin bed out into the hall and filled the room with music equipment. Rubin made some great early records solo, such as the Jazzy J record "You Feel Me" that caught Simmons' ear and led to their encounter.
"Hip-hop was a completely underground movement in the beginning. I don't think many people knew about it outside of Brooklyn, Queens, the Bronx or Harlem" Rubin recently told Rolling Stone while revisiting the dorm room where it all started, "I would see these groups live, and there was an energy in the room that was a very specific feeling. But the records would come out and not have that feeling." 
Rubin helped hip-hop capture that live, raw, DJ-driven essence, which helped steadily differentiate the genre from '80s R&B. And when he met Simmons, everything changed.
That's when Def Jam became less a dream and more a reality. Simmons used his business connections to really start to get their sounds heard. Together Simmons and Rubin broke some of the most important names in hip-hop history, including The Beastie Boys, Public Enemy and LL Cool J, who all helped turn hip-hop into a movement.
Each of these groups was of huge importance to the genre. Public Enemy, for instance, helped bring a politically and socially conscious sound to hip-hop. Many of Public Enemy's early records, such as "Rebel Without A Pause" and "Fight the Power," are still the most inflammatory and radical records the genre has heard.
Def Jam also helped set up The Beastie Boys for their enormous success. Rubin was the first to encourage the band to fully embrace the bratty, punk-tinged hip-hop sound, which the band had created more or less as a joke. The band's first LP Licensed to Ill was the first hip-hop record to reach No. 1 on the Billboard charts. That triumph helped blow the genre wide open for black and white artists to come up and repeat that success.
Rubin eventually moved on from Def Jam to pursue other creative interests. He went on to work with bands like the Red Hot Chili Peppers, the Mars Volta and Johnny Cash, among many others. But he never stopped innovating in the genre that he helped shape. He played a huge part in Yeezus – one of the most progressive and futurist hip-hop records the mainstream has ever heard. At 51, the man is still one of our finest creative minds.
Simmons left Def Jam too in 1998. After a string of transitory presidents, Jay-Z eventually took Simmons' position. Jay used the label to bring recording genre-defining acts like Kanye West, Rihanna and Ne-Yo to much wider audiences.
Now Def Jam Records is 30 years old, and it is still as strong as any of the majors.
"What started in New York 30 years ago is now global," Steve Bartels, the label's current CEO, told the NY Post in a celebration of the label's legacy. "I was in Japan, and Def Jam is as big there as it is anywhere. That's a testament to what Rick and Russell did."
Hip-hop would be in a very different place had Rubin and Simmons never met. Chances are it could have died out before it ever made it outside NYC. Ed Piskor knows as much. But he sees his work more as a celebration than as any kind of academic project.
"I really just don't give a fuck about creating an academic text or something," Piskor said in a recent interview with Vice. "I'm just trying to do my thing and have fun." 
It should be noted that "having fun" was one of the four founding principles laid down by the Universal Zulu Nation in the 1970s to guide hip-hop culture. All of Piskor's comics communicate this essence – this one more vividly than most.