America's Police Killing Problem Is Worse Than You Probably Imagined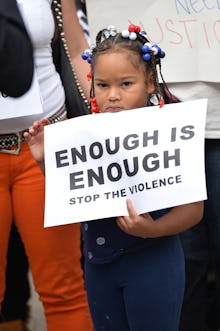 The news: As activists around the country protest the killing of Staten Island resident and unarmed black man Eric Garner, a new investigation by the Wall Street Journal has revealed that police officers kill suspects at a much higher rate than suggested by existing federal records.
With public demands for transparency on such killings on the rise following the August shooting death of 18-year-old Michael Brown by police in Ferguson, Missouri, activists are demanding that authorities be held accountable for the unjustified deaths of civilians across the country.
The data: Previous analyses, such as a USA Today investigation that concluded white cops kill black suspects almost two times a week, relied on an FBI database of police killings that listed around 400 police killings a year. But the WSJ's investigation revealed what many already suspected: The FBI database is woefully incomplete, since many local police aren't actually required to report who they kill to any higher authority.
In total, the WSJ came up with over 1,800 killings - 45% more than the FBI's statistics. And that's just from the 105 largest police departments. Elsewhere, many more dead suspects are likely uncounted by the federal government. The result, the WSJ's Rob Barry and Coulter Jones write, is that "It is nearly impossible to determine how many people are killed by the police each year."
But when the paper expanded the scope of its investigation, the results were downright chilling:
"The full national scope of the underreporting can't be quantified. In the period analyzed by the Journal, 753 police entities reported about 2,400 killings by police. The large majority of the nation's roughly 18,000 law-enforcement agencies didn't report any."
Even those participating in the FBI's data-reporting program are failing to do so with complete precision:
"Justifiable police homicides from 35 of the 105 large agencies contacted by the Journal didn't appear in the FBI records at all. Some agencies said they didn't view justifiable homicides by law-enforcement officers as events that should be reported. The Fairfax County Police Department in Virginia, for example, said it didn't consider such cases to be an "actual offense," and thus doesn't report them to the FBI.
On its own, this looks bad enough. But once the documented tendency of police officers to fire upon black suspects at a much higher rate than white ones, it looks even worse. The ACLU has determined that the vast majority of SWAT deployments are targeted at black and Latino suspects.
Based on the limited federal data, ProPublica previously determined that young black males are around 21 times as likely to be killed by police officers than their white counterparts. 
Why it matters: The importance of these findings can't be understated. If federal authorities don't have a clear idea of the scale of the problem they might not be able to formulate a coherent response. Without oversight, killings like Garner's may continue to happen without any real consequences or a national strategy to avoid them.
"There isn't a mandatory reporting. It is a self-reporting, almost on the honor system," CNN legal analyst Sunny Hostin said on Tuesday.