Why the Republicans Have Already Lost on Immigration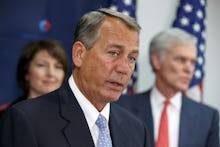 When President Barack Obama announced in November he would exercise his executive authority to shield millions of immigrants living in the United States illegally from being deported, the Republican Party and right-wing media declared him a dictator. But the current pace and tone of negotiations over a bill to fund the government next year before its scheduled shutdown next week signals that the Republicans have lost the battle to halt his executive action — which may have been entirely symbolic in the first place.
House Speaker John Boehner (R-Ohio) and other party leaders are closing in on a spending deal despite dissent from the most conservative elements of the party, the New York Times reported. The deal has been in the making for months, and it must be passed before Dec. 11 in order to avert a government shutdown. 
Last year, Republicans led the government into a shutdown for over two weeks, and while it didn't ruin their electoral performance this year, it did hurt their approval ratings. The party establishment is likely reluctant to squander political capital carelessly as they begin next year with control of both chambers of Congress for the first time since the Bush presidency.
Boehner's plan is set to fund the government through the entirety of the next fiscal year, with the exception of the Department of Homeland Security, which would be funded only through March. The purpose of limiting the funding for homeland security would be to obstruct Obama's ability to implement his executive order on immigrant deportation and work permits. 
The tea party faction of the House Republicans, rallied by the firebrand Texas Sen. Ted Cruz (who is angling for a potential presidential run), have lobbied against Boehner's plan, arguing that it doesn't go far enough. They want a short-term spending bill for the entire government and more focus on limiting money for agencies potentially involved in the immigration executive order. 
Boehner's plan indicates not only a move away from his oft-criticized tendency to capitulate to the most right-wing members of his caucus but suggests Republicans may be less inclined to use the strategy of endless delay and recalcitrance they employed earlier in Obama's tenure. There may be a realization that confrontation won't help them achieve certain goals that are now more attainable as they control Congress in 2015 and prepare for the 2016 presidential campaign.
The New Republic's Brian Beutler contends that there's a bigger issue at play here. Boehner knows that Congress actually has little power to stop Obama's executive action, and he has simply calculated that the grandstanding isn't worth it. House Appropriations Chairman Hal Rogers, a Republican, has explicitly said the appropriations process cannot defund an agency's capacity to move forward with an executive order — even under a government shutdown. Last year, the Department of Homeland Security issued a procedural document that ensures it will keep running regardless of whether the government was open or it was given funding, as Beutler points out.
Overall the Republican leadership's intentions to avoid a shutdown seem like a reasonable assessment of how they're powerless to stop the immigration executive actions. Conservative Republicans who see theatrics as a substitute for governance are likely going to have to get used to this new attitude.