Everyone Needs to Read NYC Mayor Bill de Blasio's Heartbreaking Remarks on Eric Garner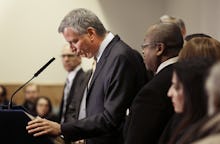 A grand jury in New York City decided not to indict Wednesday white New York City police Officer Daniel Pantaleo, who choked to death Eric Garner, a 43-year-old black man allegedly caught selling loose cigarettes on a Staten Island sidewalk. The decision has provoked widespread outrage. Garner's death, captured on video by a bystander in July, was ruled a homicide by a city medical examiner in July and chokeholds were clearly against New York Police Department policy.
As demonstrators filled the streets of New York City, Mayor Bill de Blasio delivered heartbreaking personal anecdote: Even the mayor of America's largest city had to warn his own son, who is black, about the city's police force.
This is profoundly personal to me. I was at the White House the other day, and the president of the United States turned to me, and he met Dante a few months ago, and he said that Dante reminded him of what he looked like as a teenager. And he said I know you see this crisis through a very personal lens. And I said to him, I did.
De Blasio also addressed #BlackLivesMatter, the rallying cry born out of the August shooting death of Michael Brown in Ferguson, Missouri. 
It conforms to something bigger that you've heard come out in the protests in Ferguson and all over the country. This is now a national moment of grief, a national moment of pain and searching for a solution. And you've heard in so many places, people of all backgrounds utter the same basic phrase. They've said "Black lives matter." And they said it because it had to be said. It's a phrase that should never have to be said. It should be self-evident. But our history, sadly, requires us to say that black lives matter.
Watch de Blasio's full remarks below: