21 Powerful Photos From the Eric Garner Protests in New York City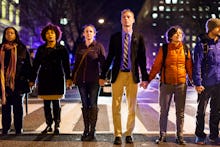 The news: The Ferguson protests are still going strong across the nation, but New York City had another reason to take to the streets Wednesday: A grand jury's decision to not indict a police officer for the death of Eric Garner, a 43-year-old black man from Staten Island who died following an illegal chokehold by the white officer in July.
Despite video evidence of Garner's fatal police encounter, the grand jury declined to file charges against Officer Daniel Pantaleo. Mere hours after the announcement, thousands of New Yorkers gathered around the city, many chanting Garner's last words: "I can't breathe." At least 30 people were arrested, according to reports.
Protesters had initially announced on social media that they would attempt to disrupt the Christmas tree lighting ceremony at Rockerfeller Plaza. Knowing this, NYPD officers set up blockades preventing the demonstrators from approaching the area.
Protesters then marched up Broadway and 10th Avenue, shutting down traffic and clashing with police.
A large contingent also took over the Brooklyn Bridge:
And the West Side Highway was shut down as well:
Earlier in the day, protesters also organized a "die-in" in Grand Central Station, a gesture that was replicated throughout the city:
By the end of the day, around 1,000 protesters trickled down to Times Square, Union Square and Lincoln Center.
According to police, around 30 people were arrested throughout New York.
Earlier in the day, New York City Mayor Bill de Blasio had urged for peaceful protests. 
"Today's outcome is one that many in our city did not want," he said. "Yet New York City owns a proud and powerful tradition of expressing ourselves through non-violent protest. We trust that those unhappy with today's grand jury decision will make their views known in the same peaceful, constructive way."
Attorney General Eric Holder also announced that the Justice Department will launch a civil rights investigation into Garner's death. "We must seek to heal the breakdown in trust that we have seen," he said. "This is not a New York issue or a Ferguson issue alone. Those who have protested peacefully across our great nation following the grand jury's decision in Ferguson have made that clear."