The New James Bond Movie Finally Has an Amazing Name — and an Even Better Cast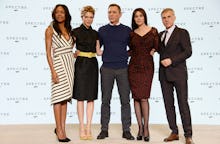 The next James Bond film has a name — and likely an old villain.
It's called Spectre, director Sam Mendes announced Thursday, and will feature Bond newcomers Christoph Waltz, Lea Seydoux (Blue is the Warmest Color), David Bautista (Guardians of the Galaxy) and Monica Bellucci (let's go with Shoot 'Em Up, although that rubber dress in the Matrix Reloaded was a high point). 
The background: SPECTRE is the evil organization Bond squares off with in many of his older movies. Mendes didn't announce whether the group will keep its clunky acronym — you'd think a bunch of evil geniuses could do better than "Special Executive for Counterintelligence, Terrorism, Revenge and Extortion." The group's logo, an octopus, is hinted at in the minimalist new poster for the movie:
While it was officially announced that Waltz will be playing a character named Oberhauser, Spectre has made fans of the classic films wonder if the two-time Oscar winner will really be playing Ernst Stavro Blofeld, the most legendary Bond villain of them all. Blofeld appeared in multiple Bond films, and even if you don't know him, you probably know him — every evil mastermind sitting in a chair while stroking a cat is riffing on Blofeld.
Will it do well? Almost certainly. The last Bond film, Skyfall, also directed by Mendes, was the highest grossing Bond film of all time, bringing in $304 million in the U.S. and $1.1 billion worldwide.
Mendes may also be hoping some Christopher Nolan magic rubs off on the movie — Interstellar director of photography Hoyte Van Hoytema will be the cinematographer, and Nolan collaborator Lee Smith will be an editor, per the Wall Street Journal. Daniel Craig, Ralph Fiennes (M), Naomie Harris (Moneypenny) and Ben Whishaw (Q) will reprise their roles. 
The new film promises a sleek new Aston Martin DB10 as well:
Spectre hits theaters Nov. 6, 2015 — although the fan trailers are already queueing up.