Congress Just Killed the Most Important LGBT Anti-Discrimination Legislation Yet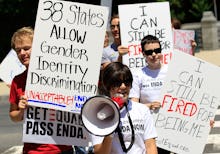 With very little fanfare, Congress has just killed the LGBT community's best hope to end employment discrimination against sexual orientation and gender identity.
ENDA, the Employment Non-Discrimination Act, was defeated by the Republican-led House Rules Committee Wednesday night by a party-line vote of 7-3, with the three Democrats dissenting. 
The legislation was designed as an ambitious plan to fix the holes that still plague federal anti-discrimination law. Currently, you can be fired in 29 states based on your sexual orientation and in 32 states based on your gender identity.
For the LGBT community, ENDA was regarded as significant legislation that gets to the heart of political and economic inequalities faced by queer people, even more than federal access to marriage. ENDA was heralded as a pointed way of combating the poverty levels pervasive throughout the LGBT community.
The LGBT community has been fighting for this legislation for more than a decade and was encouraged by its passage the U.S. Senate last fall. As ThinkProgress notes, last night's vote is likely to be a death blow, especially as Republicans are now set to take over the 114th Congress in 2015. 
"This is likely the bill's last hurrah," writes Zack Ford. "In June, after the Supreme Court ruled in favor of companies like Hobby Lobby exercising religious privileges as corporations, many LGBT groups abandoned support for ENDA because of its religious exemptions. Since then, they have been emphasizing the need for a more comprehensive approach to LGBT protections — in not only employment, but in housing, credit and public accommodations as well."
Want to know who killed ENDA? These seven, white heterosexual Republicans of the House Rules Committee:
With the failure of ENDA, the LGBT community must regroup and pursue a dual-pronged agenda: to maintain its advocacy of overturning same-sex marriage bans across the nation and, perhaps more importantly, to craft its new political agenda for the future. 
The fate of the greater LGBT community will depend largely on what it does next. Because access to marriage does not eradicate economic inequalities or employment discrimination in America.
h/t ThinkProgress