11 Photos of Striking Fast-Food Workers Across the Country Standing Up for Eric Garner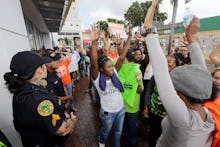 Just two years after the first major strike in the history of the fast-food industry, fast-food workers walked off the job Thursday in 190 cities to demand union rights and a $15 hourly wage. Riding the wave of rage that has emerged from the recent non-indictments of two police officers involved in the death of unarmed black men, the fast-food workers kicked off their actions with moments of silence for victims Eric Garner and Michael Brown. 
They expressed solidarity with national cries for criminal justice reform by holding their hands above their head, a gesture which, along with "hands up, don't shoot," has become a symbol of solidarity.
In the last two years, the "Fight for $15" movement has held a number of one-day strikes and has grown significantly in size and stature. Alongside other raucous actions by low-wage workers in the past few years — most notably, Walmart employees — their struggle for greater dignity in the workplace has gained enough attention that many believe Seattle and San Francisco's recently passed $15 minimum wage laws are tied to their impact on the political climate.
The Service Employees International Union, one of the most powerful labor unions in the United States, has provided the network of workers with organizational and financial backing, and played a key role in pulling in support from other sectors. Thursday was the first occasion on which airport workers in nearly a dozen cities joined the fast-food worker rallies.
"People of color can't depend on fair wages or fair justice in this country," Dan Cantor, Working Family Party's executive director, told Politico. "The common issue is that black and brown lives still count for less in America."
The convergence of inequality in the justice system and the economy in protests reveals not only the relationship between class and race in this country — people of color are most likely to bear the brunt of both — but also the potential for this moment of despair to become a basis for uniting marginalized communities for long-term change. The pictures below are a sample of this potential:  
St. Louis
Memphis
Kansas City
New York City
New Orleans
Philadelphia