11 Models Who Shattered The Fashion Industry's Definition of Beauty in 2014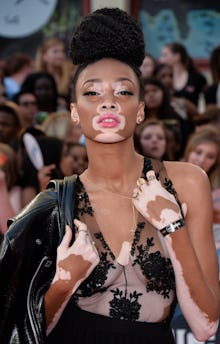 George Pimentel/WireImage/Getty Images
The fashion industry is notoriously homogenous — at New York Fashion Week in February, more than three-quarters of the models were white. But fashion's diversity problem extends beyond just race. The runways focus on one strict standard of beauty, marginalizing models left and right because of unique characteristics.
But each year, more models break through to represent those who fall outside fashion's provincial standards of beauty. That inclusion, of course, is sometimes motivated by a cynical tokenism, as fashion brands hire a notable "unconventional" model for the brief flash of publicity. Vogue Italia's all-black issue in July 2008, for example, was an attention-getting move that didn't do much to shift the white standard. "It didn't bear fruit," George Brown of RED Model Management said back then. 
But the tide is slowly shifting, as the models below prove. The more covers they book and the more ads they star in, the more their beauty won't be dismissed as a novelty but as an agent of change and awareness. From gender identities to waist size, perceived disabilities to rare medical conditions, the traits that distinguish these models tell beautiful stories — and help brands tell theirs. 
Meet the models who shattered convention in 2014.
Chantelle Brown-Young
Nineteen-year-old Brown-Young, aka Winnie Harlow, is a Canadian beauty with vitiligo, which causes depigmentation to parts of the skin. Since appearing on America's Next Top Model's 21st cycle, she landed  Desigual's fall campaign as well as gigs for SHOWstudio.
Winnie proves there is room for not only models of color, but models of many colors. Her appearance didn't work against her in the case of Desigual — in fact, it's why they hired her. 
"Desigual stands for being unusual and unique and atypical, so they figured I'd be the perfect person," she said. "They had a new line that had a lot of dots. And some of my skin patterns are dots."
Shaun Ross
With a medium build and versatile aesthetic, Ross isn't the super-skinny Saint Laurent archetype or the all-American Abercrombie hunk. Originally a professional dancer with the Alvin Ailey company, he catapulted into public consciousness with an appearance on the Tyra Banks Show that focused on his life as an albino man.
Since then, Ross has walked for names like Alexander McQueen and Givenchy, and in 2013, he starred in Lana Del Rey's Tropico as Adam to her Eve and popped up in Beyoncé's "Pretty Hurts" video. This year, Ross went beyond the camera to raise his voice, delivering a powerful TEDx talk entitled "In My Skin I Win." 
"When I was approached to do modeling, I never thought that I could have been a model," he said in his TEDx talk, "because in my eyes, the way society painted it for me, is that I'm completely wrong, I'm not acceptable, and I'm not beautiful."   
Slowly but surely ("like, turtle slow," he told the crowd), he's gained acceptance. "I think that there is a lack of diversity in general," Ross told the Grio. "But when people think of diversity, they just want to say 'black.' Why does it just have to stop at that?"
Jade Willoughby
The term "diversity" is often assumed to simply mean the inclusion of both black and white. But diversity extends far beyond that, as Jade Willoughby reminded us this year. After signing with Wilhelmina Models in 2013, the Canadian model became just one of a handful of indigenous models to walk New York Fashion Week this year.  
"The biggest thing that I found so far is the fact that there are so few First Nation models that the majority of the time, for clients, I'm not sure if they know how to handle where I'm coming from as a person," the Whitesand First Nation member told Indian Country Today Media Network in March.  
"I don't fall under the category of being booked as a black model or any other ethnic models, so it's sort of -- I'm in a category all my own and that can be tough at times. They do use the term 'ethnically ambiguous' because I am mixed," Jade told ICTMN. But her growing success is a positive reminder that fitting into a category need not be a requirement for success in fashion — or anywhere else.
Erika Linder
This Swedish model's Twitter bio sums it up nicely: "I have too much imagination to just be one gender." Linder made a splash this year by pulling double duty in ads for Crocker by JC Jeans Company, filling both the male model and female model roles. 
"By starring Erika as the model for both male and female styles, we want this collection to inspire creativity and confidence as we set out to break new boundaries within the fashion industry," Crocker by JC Jeans Company wrote on their website.
Linder kept up the streak with a Harper's Bazaar China shoot, and most recently showcased her versatility in a Tom Ford beauty campaign. As her agency, Next Model Managment, put it, "That model with the open collar who bears resemblance to a young Leonardo DiCaprio is in fact none other than Erika Linder." Now that's one flattering comparison for any man or woman.
Ashley Graham
The Nebraska-born model has been on the scene for several years but made an important jump in 2014: Graham was signed to mega-agency IMG Models along with four other plus-size women, who were promptly incorporated directly into IMG's general "WOMEN" roster rather than being put into their own "plus" category, as has been agencies' standard. Graham now appears right alongside power players like Gisele Bundchen and Karlie Kloss, making a quiet but powerful industry statement.
Graham has since modeled for clients spanning Isabel Toledo for Lane Bryant to Elle Quebec. She also has a line of lingerie with Addition Elle, available now online and launching at Nordstrom this April. The year's high point? A gorgeous lingerie shoot for Vogue.com.
But more important than her posing, arguably, is Graham's outspoken support for body diversity. The role of so-called plus-size models in the fashion industry has been widely debated especially this year, from what size a "plus-size" body really is to the terms we should be using.
Graham has been a voice of reason in the conversation. "I do not like being referred to as a plus-sized model," Graham told i-D. "I am a model, and I don't need my job title to explain the dimensions of my body."
Lea T.
Since her entrance onto the scene in 2010's Givenchy Haute Couture show, Lea's face has been splashed on covers and campaigns, a level of exposure that's heightened visibility for the transgender community at large and driven home the fact that gender is hardly a black-and-white categorization. 
This year, her biggest yet, she became the face of Redken and will front the company's January 2015 Chromatics hair color campaign.
"I love working with Redken because they appreciate all kinds of beauty," she said. "They believe in the individuality of the person, and I think that's really important."
Andreja Pejic
Pejic, long feted by the fashion world for her androgynous aesthetic, came out as transgender this year after several years already working successfully in the industry. She has walked in men's runway shows for Thom Brown, Rick Owens and Jean Paul Gaultier as well as women's shows for Jeremy Scott, Jean Paul Gaultier Haute Couture and DKNY. 
Now, having vocally embraced her identity in 2014, Pejic is raising money via Kickstarter to film a documentary about her journey, called Andrej(a). 
"To all trans youth out there, I would like to say respect yourself and be proud of who you are," Pejic said in a statement released through GLAAD. "All human beings deserve equal treatment no matter their gender identity or sexuality."
Hari Nef
In some ways, Lea T. and Pejic have paved the way for models like Nef, a 22-year-old artist and performer who's a senior in college. As an out trans model, Nef is still part of a minority, but, as she told Forbes this year, "Trans models are making history every month." 
The challenges are still great, Nef said: "There are more and more jobs for out trans models, but most them are identity-focused or quite outré. It's harder for an out trans girl to book a blue chip runway where she gets one look and simply walks out with all the other girls." But in some ways, the fact that Nef's name is lesser-known — and that Hood By Air made practically no waves for casting her in its September Fashion Week show — is a sign that inclusion is coming. You can find her at No. 68 on the Dazed 100 list this month.
Alex Minsky
Minsky is a former Marine who lost his leg in an explosion while deployed in Afghanistan. He has been featured in GQ and a campaign for the latest Hunger Games movie. He's also the brand ambassador for athletic brand LiveFit.
His inspirational story is one of hard work in the face of seemingly insurmountable circumstances. His improbable recovery — "My brain injuries were so severe they thought I was going to be a vegetable for the rest of my life" — saw him sink into an alcohol-fueled depression. After rehab and getting sober, Minsky hit the gym to keep himself occupied and was discovered by a photographer while working out.
A model with a story that will lead you to believe in miracles: Minsky not only challenges what it means to have a "perfect body" but serves as a reminder that with dedication and hard work, success is possible. 
Jillian Mercado
Mercado may be in a wheelchair, but she won't be held back by muscular dystrophy. Since being featured in Diesel's spring campaign, she was tapped by Nordstrom for their summer and fall catalogues.
Nordstrom has a solid track record of featuring diverse models in the past, including those with physical disabilities (including Minsky). Other retailers have followed suit: JCPenney recently displayed mannequins modeled after real individuals, including a man with dwarfism. It's a shift that not only expresses inclusion, but makes business sense: Meg O'Connell, from the consulting firm Global Disability Inclusion, said people with a disability represent $225 million in discretionary spending. 
Mercado is just one of the gorgeous models reminding retailers and shoppers that people like her exist — and are beautiful. "There was a time where I compared myself to people around me... Too soon I realized that I was living a lie," Mercado told i-D this year. "We must stop looking for guidance on how to be beautiful because we can be our own compasses." 
Mercado as well as Minsky challenge ableist views of perfection to redefine beauty and bring an end to damaging comparisons.
Carmen Dell'Orefice
Dell'Orefice is the ultimate rebuttal to fashion's notorious obsession with youth and young age. The 83-year-old has been modeling for nearly 70 years, since posing on the cover of Vogue's October 1947 issue at the tender age of 16. She even sat for Salvador Dalí and worked with legendary photographers Cecil Beaton, Norman Parkinson and Richard Avedon.
And she didn't slow down in 2014 — on the contrary, she scored the cover of Harper's Bazaar Thailand.
The cover and shoot inside are just past of the octogenarian beauty's recent streak. Since 2010, Dell'Orefice has been featured in V Magazine, Vogue Italia, Harper's Bazaar and Vanity Fair. A child of immigrant parents, she rose from poverty to have a long, varied, and illustrious career.
Dell'Orefice serves as an important reminder that true beauty knows no age — and that models of a certain age still sell. Age isn't something to be afraid of, she said: "I am able to be truer and truer with myself the older I get, but I am still a work in progress."