16 Run the Jewels Lines That Captured What It Was Like to Be Alive in 2014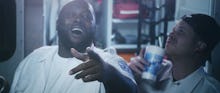 No one was ready when Run the Jewels' dropped their second full LP for free in October. But the surprise release wasn't the shock factor; it was the music itself — late in the year, at a moment of exploding political tensions, someone released exactly the album we all needed. They released the most brilliant, necessary record of the year.
This was a hard year — if you didn't notice, you didn't live through it. El-P and Killer Mike's verses and public statements covered all the most important issues of the year in a vital and urgent way. They turned a critical eye on the New York Police Department and its racist stop and frisk policies. They discussed the deteriorating situation in the Middle East, which they blamed, in part, on the arrogance in America's handling of the War on Terror. They spoke out in Missouri on the night of the Ferguson grand jury decision. 
Above all else, though, they captured a stunning portrait of the helplessness and defeat the nation has felt watching all the recent cases of racially driven police brutality unfold. Within their music and without, Run the Jewels have been guiding lights helping us make sense of this troubling year. Here are the 16 lines that captured what it's like to be alive in 2014.
On stop and frisk:
It be feelin' like the life that I'm livin' man, I don't control
Killer Mike's first verse on "Early" is a graphic depiction of what it feels like to be on the receiving end of a hostile police search. He describes feeling barely in control of his own life because at any moment he could be singled out for a pat-down. Officers in New York City unfairly targeted black and colored men in 54% of their searches, versus white people who only received 11% of the attention. Killer Mike's fears are real.
On unjust sentencing for weed crimes:
I said 'Man, I'm tryin' to smoke and chill
In the same verse as the previous entry, Mike clarifies the "medicine" that could "ruin his life" if cops found it — just a little weed.
Weed laws in the U.S. made a lot of progress this year, with the first recreational dispensaries officially opening for business in Colorado in January. But there are still states where legislation is extremely backward. In September, a Missouri man received life in prison for trying to purchase marijuana. Millions have suffered punishments of varying severity since 2001. These arrests fell disproportionately on communities of color, reinforcing "generations of poverty and disadvantage" as Vanita Gupta wrote for CNN. 
Mike's verse brings this issue to life with uncomfortable vibrancy. Hopefully, his depiction will help some realize how desperately these laws need to change heading into 2015.
On recording police brutality:
They'll watch you walk to the store they're recording
In his verse on "Early," El-P — the white rapper in Run the Jewels — talks about witnessing an instance of police brutality, rather than being the victim of one.
El-P calls attention to the issue of capturing video footage, which was notably absent to corroborate Officer Darren Wilson's story of the events in Ferguson. There was plenty of video footage available of Michael Brown robbing a convenience store moments before his death, but none Wilson shooting him. The Obama administration has advocated for cameras on police uniforms to help prevent this type of confusion in the future. Although, as we saw with the Eric Garner's case, even irrefutably brutal video footage will not always make the difference.
On rioting, peacefully and otherwise:
"I would like to give all thoughts and prayers to the people who are out there peacefully protesting. I also give thoughts and prayers for the people who could not hold their anger in because riots are only the language of the unheard."
On the night of the Ferguson grand jury decision Nov. 24, Run the Jewels was scheduled to play a show outside St. Louis. Instead of coming out to their usual theme music — Queen's "We Are the Champions" — they walked out in silence, and Killer Mike opened with the above prayer. 
The "language of the unheard" portion is a quote from Martin Luther King Jr., who called rioting "self defeating and socially destructive." Run the Jewels is a little more down with chaos as a means to shake up the system, but Mike importantly highlights peaceful protesters first. Throughout the album, he asserts nonviolence is the best way to protect and preserve a community — even if it's not always easy.
On King and his legacy today:
And I love Dr. King but violence might be necessary
Killer Mike consistently pushes people angered by racial injustice to aspire to the example King set: Respect the lives of your fellow men as you resist the system. But Killer Mike also recognizes the difficulty of maintaining that ideal in the face of so much brutality.
The pun on MLK being a street name is extremely pertinent. There is an MLK street, avenue or boulevard in almost every major U.S. city, and many of these streets are some of the most crime-ridden and violent parts of those cities.
"As much as it may sadden us, it demarcates and defines boundaries for civil rights activism for the future," Derek Alderman, author of a 2007 study on the conditions of MLK streets across the country, told USA Today in January, "You've got something that remembers the past that actually works, in its own tragic irony, to symbolize where the struggle still is."
On socioeconomic inequality:
Life is hell
FUBAR stands for "Fucked Up Beyond All Recognition." Just as El-P asserts, the rulers of this nation — not our literal rulers but leaders of business and industry — are still getting richer, and the richest getting even richer still. Meanwhile, the poorer are still getting poorer. According to one of the Pew Research Center's measure, socioeconomic inequality is higher now than it's ever been. 
Worse, inequality is still integrally tied up with race. The income gap between black and white families has increased from an average $19,360 in 1967 to $27,415, according to Pew's most recent measure. The divisions between the have and have nots in this country get more and more FUBAR every year.
On power:
Like who really run this?
On "Lie, Cheat, Steal" Killer Mike notes how difficult it has become to tell who is really calling the shots in this country. Is it the politicians? Or is it the powerful businessmen who put those leaders into power?
Around the time of the midterm elections, Mother Jones ran a powerful investigative piece that tracked the money spent by the Koch brothers on campaigns to get conservative candidates into office around the country. The depth of these two men's web of influence is frightening.
"I think the notion that we have all the democracy that money can buy strays so far from what our democracy is supposed to be," Supreme Court Justice Ruth Bader Ginsburg said in September, reflecting on the absurd amount of dark money that's running politics. It's extremely important we keep asking ourselves Killer Mike's question: Who really does run this?
On the difficulties making money in today's music industry:
Shoulda been a dentist, mom said it
On a lighter note, some career advice from El-P. He's right — dentists make money in 2014. Musicians do not.
This year, the issue surrounding musicians' flagging incomes in the digital age reached a fever pitch. Most of this conversation was centered around the exploitative aspects of streaming. Spotify and other streaming services offer notoriously low artist payouts — fractions of cents. But they are trying to get better.
Taylor Swift, for one, was extremely vocal about working to help artists' start to make money again, though the system she proposed isn't the solution. Money in the industry is being concentrated into fewer and fewer hands and Swift's solution will only speed up that process. 
But sometimes real dedication and love pay off. El-P and Killer Mike are both around 40 years old, and they're only just getting their break. They stuck it out for love of the game.
On gentrification:
Born in a little shop of horrors that I can't even afford to rent in
El-P was born and raised in Brooklyn. Today, thanks to gentrification and skyrocketing costs of living, that borough he knows from his youth is nearly unrecognizable.
Gentrification was an especially hot-button issue this year. Spike Lee, whose production company 40 Acres and a Mule Filmworks is in Brooklyn, sparked a tense conversation earlier this year with a rant at Pratt Institute. Lee's words birthed hundreds of thought pieces. These continued in a steady stream throughout the year. 
El-P has shared his thoughts too, mostly through Twitter. When mysterious white flags appeared over the Brooklyn bridge, El-P interpreted them as a sign that Brooklyn had completely and utterly "surrender[ed] to gentrification." And more recently when millionaire transplant Swift released a song called "Welcome to New York" and was named NYC's Global Welcome Ambassador, he tweeted how New York was essentially dead to him:
On addiction and the death of Phillip Seymour Hoffman:
Psychotics use it to lose it
We lost amazing artists this year — Robin Williams, Peaches Geldof, Phillip Seymour Hoffman. All three of these creators suffered from substance abuse issues far removed from the public eye. The last two likely died from their addictions.
It's hard to think that people who are so universally beloved could have such dark and tragic private lives. But addictive personalities are addictive personalities. Junkies will "simply abuse it," as Killer Mike says. And unless we start to work to tear down the stigmas surrounding addiction and start getting help to the people who need it, they'll only keep abusing it.
On Donald Sterling:
Who in the world gon' tell Donald Sterl who to put on the
The year 2014 was when Sterling was caught on tape being undeniably racist. But he had been engaging in shady racist business practices for years. 
For one, he was charged i for n 2006 housing discrimination for allegedly refusing to rent to black tenants. Sterling settled out of court for a record-breaking $2.75 million so he could avoid an admission of liability. Even after losing all that money, he continued spouting hate. His beliefs remained unchanged and will still. Even after he pays (or doesn't) his $2.5 million NBA fine, Sterling will still be a multibillionaire. It's hard to bully those at the very top.
On the Catholic Church's molestation cases:
Includin' members of clergy that rule on you through religion
Molestation has been an issue that has plagued the Catholic Church for years. El-P makes numerous mentions of it on the album. But this year, Pope Francis has made bigger strides in righting these injustices than any of his predecessors ever did. 
"The church is aware of this damage," Francis said, addressing the scandals in April, "It is personal, moral damage carried out by men of the church, and we will not take one step backward with regards to how we will deal with this problem, and the sanctions that must be imposed." 
One of the biggest of these sanctions came in November, when Francis excommunicated a pedophilic Argentine priest. Excommunicating one man will not solve the problem, but it's a step in the right direction. So is the awareness El-P is preaching.
On sex and female empowerment:
He want this clit in his mouth all day
"Love Again" starts like a lot of misogynist hip-hop songs: Two verses full of dick and sex jokes. Many of them are surprisingly sensitive sex jokes such as El-P's "What you are is so unique / Smart and full of filth and joy." But even that formula is completely flipped on its head by the third verse, when female rapper Gangsta Boo takes the mic. 
Her verse celebrates feminine sexuality and its potential power to fascinate and dominate men. It's way more progressive than anything Nicki Minaj spit on "Anaconda," which many expected be a watershed moment for female sexuality but was really a huge letdown.
On the War on Terror:
But maybe you should be careful when flipping a stranger's switch
Watching the rise of the Islamic State this summer, the world saw how far from over the War on Terror actually is. The U.S. government has shown "arrogance" at almost every step of its involvement in Iraq and Afghanistan. 
The executioner of journalist Steven Scotloff said as much in IS' second beheading video. "I'm back, Obama, and I'm back because of your arrogant foreign policy towards the Islamic State," the masked man said, "Just as your missiles continue to strike our people, our knife will continue to strike the necks of your people." We need voices like El-P's to remember why this is still an issue we can't ignore.
On hip-hop's role in our culture:
"No other fictional form — musical, literary or cinematic — is used [as evidence] in the courts, a concerning double standard that research suggests is rooted, at least in part, in stereotypes about the people of color primarily associated with rap music, as well as the misconception that hip-hop and the artists behind it are dangerous."
In his recent op-ed in USA Today, Killer Mike tore apart the discriminatory way rap lyrics are frequently used in courts of law as a means of "proving" defendants have had violent pasts. It happened to Vonte Skinner in 2008 when lyrics he had written were used to secure a guilty verdict, in the absence of any solid witness testimony or evidence. In September, the New Jersey Supreme Court reviewed the case and overturned the decision. They claimed reading the lyrics "risked poisoning the jury" against him. Others have not been so lucky.
Rap personas are separate entities from day-to-day personalities. What rappers say on the track to provoke and entertain are not true threats. The fact that only rap, a historically black art form, is treated this way, is a perfect example of how deeply our country misunderstands rap music and the people who make it.
Killer Mike knows best why we need hip-hop, though. As he told NPR, "Rap has given me my voice."
On the future:
"Whatever this country is willing to do to the least of us, it will one day do to us all."
Killer Mike wrote these words of warning in August for Billboard, responding to Brown's death in Ferguson. He discusses all the instances of police brutality we saw over the course of the year. 
"The police are paid by the public and carry a public trust, and they take an oath to protect us as citizens," Mike writes, "The police have lost sight of that and must be reminded that we pay them to protect us, not to simply engage and cage us." He encourages us to become familiar with their civil rights, particularly the Fourth and Fifth amendments, which he hyperlinks as such.
Because this is what Run the Jewels is all about at its core — making the search for knowledge and justice feel vital and attainable. Run the Jewels makes dangerous music that's rowdy as hell but also inspires and spreads awareness. 
There was simply no music that did it better in 2014.