2014 Was the Year Pop Music Killed Traditional Genres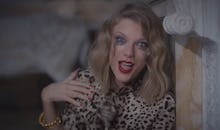 In case you hadn't heard, Taylor Swift has a new album out, and in case you hadn't read, it is not a country album. The singer's shift from country to pop on her fifth LP, 1989, has been extraordinarily well-publicized. Everyone is talking about how Taylor Swift isn't a country singer anymore.
But one thing doesn't quite compute: She sounds basically the same.
The genre jump hasn't made a material difference in her popularity, either. In its first week, 1989 sold 1.287 million copies. It's the first platinum album of 2014, and despite being only six weeks old, will be the biggest commercial success of the year if not the decade. The album is on pace to outperform Red, Swift's last album (billed as country), but only marginally. That record sold 1.21 million units in its first week and has since logged 6 million worldwide. Which is to say: For all the hubbub surrounding Swift's jump from country to pop (and her coinciding move from Nashville to New York), the genre switch was inconsequential, if it ever really existed. 
That doesn't say that much about Swift, though. It simply reveals one of the biggest trends in pop music: Genre itself (at least in the mainstream) is drifting toward nonexistence.
Every pop star is increasingly relying on many different genres while concocting pop success. According to Nielsen's mid-year 2014 sales report (the most recent holistic data set we'll have until 2015), the first half of 2014 saw a number of crossover artists in the charts' upper ranks. The 10 top-selling digital singles included rap producer-turned-soul producer-turned-singer Pharrell's "Happy," Katy Perry's pop-rap crossover "Dark Horse," Idina Menzel's musical number-cum-pop song "Let It Go," Iggy Azalea and Charli XCX's pop-rap mash-up "Fancy" and Lil John and DJ Snake's supremely confounding "Turn Down for What."
Consider, then, that in the first half of 1994, the Top 10 selling albums (discounting the Lion King) belonged to Ace of Base, Counting Crows, Mariah Carey, Tim McGraw, Toni Braxton, R. Kelly, Pink Floyd, Céline Dion and Snoop Dogg — all artists who fit neatly into genres like pop, alt-rock, R&B, country, R&B, R&B, classic rock, not-good and hip-hop, respectively.
Next to any of those bands, a track like "Turn Down for What" is impossible to categorize. The beat is rooted in trap. The hook relies on a rapper who is more hype-man than emcee. But the rap itself is hardly a rap at all, consisting of only 12 words. "Turn Down" could potentially be described as crunk-trap. But with a tag so specific, what's the point of categorizing a song in the first place?
And like "Turn Down for What," a substantial chunk of this year's top tracks have been collaborations between artists of multiple styles. Iggy Azalea's "Fancy," as others have noted, lives and dies by Charli XCX's pop chorus. Nicki Minaj's rap is the best 30 seconds of Jessie J's pop opus "Bang Bang," and a cameo by Ariana Grande likely hasn't hurt its 18-week chart residency. Of the first half of 2014's Top 10 best-selling tracks, five of them are collaborations between marquee acts. Five more show up in this week's Top 20. The Top 3 tracks on this week's R&B/Hip-Hop Airplay chart are all collaborations.
Crossover appeal is, of course, nothing new. Tim McGraw's 2004 collaboration with Nelly spent 10 weeks atop the Top 40 chart. Faith Hill dominated both country and pop charts in the late '90s. "Picture," by Sheryl Crow and Kid Rock (first a rap artist, then a rap-metal artist and eventually a country-rock artist), peaked at No. 21 on Billboard's Hot Country Songs, No. 17 on Adult Contemporary and No. 4 on the Hot 100.
But while crossover successes were once lucrative anomalies, they're now the norm to the degree that rappers are taking singing lessons to cater to wider audiences. Blake Shelton's country-rap anthem "Boys 'Round Here" occupied spots on both Billboard's Country and Hot 100 charts this year. This week's No. 1 Rock Streaming Song is Hozier's folk-rock "Take Me to Church." The No. 4 slot is Lorde's pop-rock tinged with R&B "Yellow Flicker Beat." At No. 6 is Awolnation's "Sail," which is rooted enough in electronics to anchor an industrial club night. And again, at No. 8, is Lorde ("Royals") — an artist who's indisputably poppy, who rocks indisputably hard and who's just recorded one of the indisputably best hip-hop covers in recent memory:
The trend is even more present the further you get from the Top 10. Azealia Banks, who didn't make Spotify's list of 2014's top-streamed songs nor Nielson's mid-year list of top-selling songs (her album dropped in November) has been labeled everything from hip-house to trap-rap to witch house — a roundabout way of saying her vicious delivery relies on jagged dance beats. Rapper and electronic producer Flying Lotus sounds more like a jazzy Hendrix than a hip-hop artist on his latest, You're Dead!, and doesn't utter a word through half of it. And Chance the Rapper — an artist who won't appear in any Spotify, Nielsen, Billboard or industry lists until he quits giving away music for free — has drifted so far into melodic vocals and live instrumentation he could very well change his name to Chance the Soul Singer.
The reason for so much genre-blending is anybody's guess, but it's likely quite a good thing. More than our listening habits, the Internet is probably responsible for so much tonal cross-pollination. With so many different sounds at the tips of musicians' fingers, they're bound to hear and draw inspiration from a wider pool of genres. Where physical location and regionality used to mold a band's sound — say, East Coast hardcore or Northwestern riot grrrl punk — there's now one common (albeit massive) space to draw inspiration from. 
It's diluting all but the most insular of music scenes; but it's also forging a more open-minded listenership: one less willing to dismiss music for its genre, but with a keener sense of what's been crafted with honesty, precision and, above all, talent.