One Harry Potter Fan Just Turned the 'Harry Potter' Series into a Visual Art Masterpiece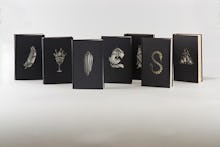 Behance
The news: The Harry Potter books have sold 450 million copies and have been translated into 73 languages around the world, but they've never looked quite like this.
Scholastic unveiled new book covers last year for the entire blockbuster series to coincide with the 15th anniversary of the U.S. publication of Harry Potter and the Sorcerer's Stone. But a Hungarian art student named Kincso Nagy has taken the Internet by storm with her own take on J.K. Rowling's iconic books — and the results are, dare we say it, magical.
As part of her final project for her bachelor's degree, Nagy — a longtime Potter fan — designed new covers for all seven books and illustrated the first installment.
"The Harry Potter books are so magical so mysterious and so adventurous. Basically these books are on the border of childhood. Therefore my goal was to redesign them with such illustrations that show this extraordinary atmosphere of the books," Nagy writes. "I started to experiment with interactive illustrations [that do] not distract attention from the plot, but add to the story."
And if you thought these covers were cool, this is what happens when you turn the lights off:
Still, the true magic lies within the pages: not only are the illustrations exquisite, but they contain pop-ups and other interactive elements.
Excuse us, we're just heading to Gringotts to withdraw some Galleons for this entire set.
Check out more of Nagy's work here.
h/t Flavorwire