2014 Was the Biggest Year for Job Growth in 15 Years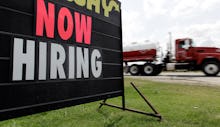 The U.S. economy added 321,000 jobs in November, marking a record 50th consecutive month of expanded hiring, the Labor Department said Friday. The strong number beat economists' expectations of 228,000 jobs, and makes 2014 the strongest in terms of job growth since 1999.
November was also the 10th straight month with payroll growth of more than 200,000, the best streak since 1995. Ten million jobs have been added to the U.S. economy since the depths of the recession in February 2010:
The unemployment rate remained steady, at 5.8%, a six-year low. But wages were stagnant, with hourly earnings up just $0.09, well short of the 3% annual hike that might cause Federal Reserve officials to consider raising interest rates.
The labor participation rate, which measures how many Americans are actively pursuing jobs, held steady at 62.8%. Despite that, a more broad report on long-term joblessness shows that rate also sinking to 11.4%, a six-year low.
Another mostly positive report should give workers reason to smile — and Wall Street cause to keep calm — but the slow pace of gains in wages for hourly workers points to a further broadening in the country's growing income gap.