Obama's New Choice for Defense Secretary Once Wanted to Bomb North Korea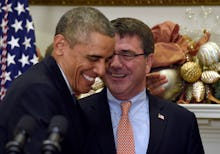 On Friday, President Barack Obama nominated Ashton Carter to be his fourth defense secretary, replacing ousted Pentagon chief Chuck Hagel. Carter, who ranked just below Hagel at the Department of Defense until last year, is a medieval scholar, a physicist and a longtime technocrat at the Pentagon.  
He was also once very eager to preemptively bomb North Korea, a move so aggressive that it evoked protest from then-Vice President Dick Cheney, a key architect of the bellicose Bush doctrine.
In 2006, while working at Harvard between stints at the Pentagon, Carter cowrote an op-ed in the Washington Post with former Clinton Defense Secretary William Perry entitled "If Necessary, Strike and Destroy," in which he advocated for striking North Korea if it carried out plans for a test launch of an intercontinental ballistic missile:
Should the United States allow a country openly hostile to it and armed with nuclear weapons to perfect an intercontinental ballistic missile capable of delivering nuclear weapons to U.S. soil? We believe not. 
He wrote that while the Bush administration had become a tad bit overzealous about preemptive military action, "intervening before mortal threats to U.S. security can develop is surely a prudent policy." In his eyes, diplomacy had failed and that North Korea's weapon development posed a "mortal threat" to the United States.
Carter's assessment is curious in light of the fact that close to a decade later, North Korea still lacks the capacity to harm the United States using nuclear weapons. The harmlessness of North Korea's testing was so evident that Cheney, easily one of the most powerful and trigger-happy neoconservatives in American history, pushed back against the idea that such a strike was necessary or useful:
"I appreciate [their] advice," Cheney said in an interview with CNN. "I think, obviously, if you're going to launch strikes at another nation, you'd better be prepared to not just fire one shot. And, the fact of the matter is, I think the issue is being addressed appropriately."
There are other questions about the choice of Carter for leading the White House's defense operations. Recently, Alice Slater, New York director of the Nuclear Age Peace Foundation, pointed out that Carter is very much entangled in the shady world of the military-industrial complex. Between stints in government, he has made significant sums of cash consulting  for defense contractors, and has made money advising Goldman Sachs and Raytheon.
His selection also doesn't bode well for proponents of nuclear disarmament. Slater says that Carter's weapons expertise and history in the Pentagon suggests that he will not slow down the flow of cash toward nuclear weapons, as the U.S. is slated to spend around a trillion dollars on bomb factories, delivery systems, missiles, submarines, airplanes and new nuclear weapons over the next three decades.
It will be interesting to see what other details about Carter's politics emerge as he's sized up for confirmation by the Senate. Hagel's departure from the White House as the Middle East is heating up again is widely considered to be a sign that Obama is interested in finding somebody both with technical know-how and a greater propensity for war. Remember: Obama has never advocated against the use of military force, but rather the manner in which it is deployed.
h/t Democracy Now